An analysis conducted by the IDF finds most female terrorists came from affluent and educated families; many decided to carry out attacks after being exposed to serious incitement on TV and online.
About half of the 219 terrorists who committed the 228 attacks over the past five months were under 20 years of age, while 11 percent were women, an internal IDF and Shin Bet document obtained by Yedioth Ahronoth shows.
The first part of the document breaks down the data about the attacks, showing that 80 percent (174) of terrorists were from the West Bank, 16 percent (36) came from Jerusalem, and the others came from within the Green Line.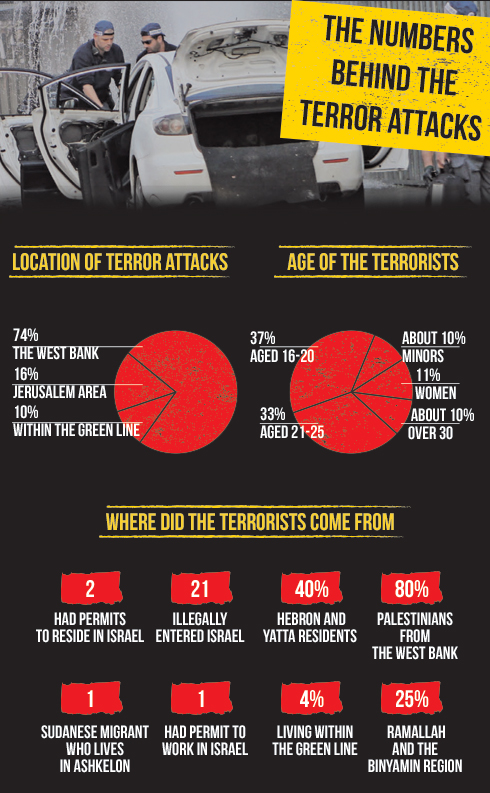 An analysis of the data indicates several reasons for the recent outbreak of terrorism, including the lack of a political horizon, the feeling that Palestinian President Mahmoud Abbas' era has come to an end, and a sense of alienation of the Palestinian public from the Palestinian Authority.
But the most interesting finding from the report is the rise of the younger generation, the one that did not experience the first intifada and barely remembers the second one. It is a generation that got tired of family hierarchy, the occupation, and its leaders. It is a generation that is defiant toward parents and adheres to human rights. The new Palestinian, officials say, is not worried about the IDF's punitive measures or its nightly arrest raids.
When considering the characteristics of lone terrorists in the current terror wave, women appear to play an ever-increasing role in the escalation. Female terrorists like Hadeel al-Hashlamoun, Ashraqat Qatanani and Sarwa al-Sharawi, who became icons on the Palestinian street. All of them are seen as martyrs who decided to carry out attacks against the authorities. While the psychological aspects behind these women's actions are complicated, they are not from the margins of society – most of them come from stable and educated families.
A look at the individual incidents shows that these women's distress and personal motives were the catalysts for carrying out the attacks. Their feelings of stress and personal frustration with their parents, combined with the basic hostility they feel toward Israel, have created fertile ground for terrorist attacks.
In addition to the emotional and personal processes that the Palestinian women and the rest of the terrorists went through, Hamas' television stations and social media activity also helped inspire them to carry out attacks. The popularity of Hamas' Al-Aqsa Brigades and the incitement that permeates the internet encouraged the women to emulate the acts glorified there.
As reported by Ynetnews