American and European intelligence chiefs say the Islamic State group is manufacturing chemical weapons on an industrial scale, and have already used WMDs 'numerous times' in Iraq and Syria.
MUNICH – The Islamic State group has already used chemical weapons "numerous times," and is planning to carry out a chemical attack against the United States, according to American intelligence, presented by US National Intelligence director James Clapper at a panel of intelligence heads at the Munich Security Conference this weekend.
Meanwhile French Prime Minister Manuel Vall, who spoke at the same conference, said he is convinced that there will be another "large scale attack" by ISIS on Europe.
Clapper said ISIS was manufacturing chemical weapons on an industrial scale, and noted the CIA has evidence of the use of chemical weapons for the first time by a terrorist group since the 1995 Sarin gas attacks on the Tokyo subway.
While Clapper didn't state the nature and the origin of the information he based his findings on, it is likely based on, among other things, samples collected by operatives of the German BND in the Kurdish region in northern Iraq back in October, which indicated the area had been bombarded with mustard gas.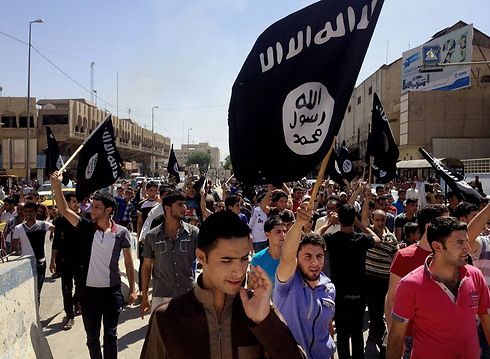 "We are under the impression that they (ISIS) would like to use chemical weapons against us (the US) … This is a very worrying development," Clapper continued.
Clapper presented his audience, which was comprised of high ranking political officials and intelligence heads from around the world, with several disturbing facts: according to US intelligence, seven countries are in danger of collapsing because of the presence of terror organizations – chief amongst them ISIS – while 59 other countries are considered highly unstable. Volunteers are travelling to fight in Syria and Iraq from no less than "120 different countries," and many may return home.
"Instability and the unexpected are now the new normality," Clapper said.
Robert Hannigan, head of British GCHQ, noted that "these new jihadists are educated young people who grew up in the West," and that with the knowledge and training they received in Western countries, they have been able to turn ISIS into the most advanced terrorist organization the world has ever seen.
"ISIS is constantly learning from its mistakes," Hannigan continued, adding that ISIS operatives use the internet not only to spread propaganda and recruit fighters, but also to carry out destructive cyber-attacks. "They are not there yet, but they will be soon," he added.
Robert Bertholee, head of Dutch intelligence, highlighted the fact that 250 people had joined ISIS from his country, a number which doesn't even include 70 children. "They (the children) are not only the terrorists of the future – they are the terrorists of today."
The intelligence heads also revealed on the panel that ISIS is attempting to get its hands on advanced encryption software in order to prevent intelligence agencies from following them. Hannigan proclaimed that while British intelligence doesn't enter through "back doors" in the encryption software of private British companies, he is requesting that legislation be changed on this subject. Clapper said that the encryption software available for public consumption is "the thing that worries me the most."
Gerhard Conrad, former high-rank BND official, and the interlocutor in the negotiations to free IDF soldier Gilad Shalit from Hamas captivity, also participated on the panel. This was one of Conrad's first public appearances. He is now head of EU Intelligence and Situation Center, the inter-European security agency, which is responsible for analyzing general information gathered by the intelligence agencies of all members of the European union on the fight against terror.
Conrad did not specifically mention American intelligence whistle blower Edward Snowden by name, but it appears that it is in the wake of the effects of Snowden's leaks and the claims that intelligence agencies abused the authorities entrusted in them, Conrad spoke about the need to respect human rights, and noted that "powerful entities must require significant oversight in order to ensure that they do not abuse their power."
As reported by Ynetnews