Charleston, South Carolina – Jeb Bush, who has struggled with the political baggage attached to his famous last name, has finally come to a place where his family is not a liability: South Carolina.
This state has been good to the Bushes, handing key primary victories to both George H.W. Bush and George W. Bush in their White House bids. As Jeb Bush looks to continue his family's winning streak on Saturday in the first southern primary, his campaign is becoming an all-hands-on-deck family affair.
George W. Bush stumped for his younger brother for the first time Monday night, attending a rally in North Charleston along with his wife, former first lady Laura Bush.
The rally comes after Jeb Bush's most forceful debate performance of the campaign, when he pushed back on Donald Trump for attacking his brother's national security record.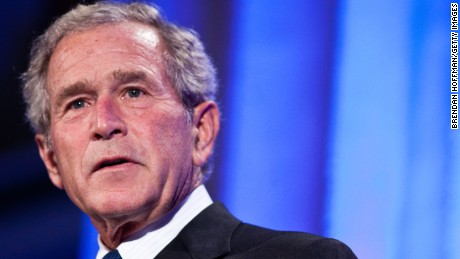 "I'm sick and tired of him going after my family," Jeb Bush said Saturday night. "My dad is the greatest man alive, in my mind. While Donald Trump was building a reality TV show, my brother was building a security apparatus to keep us safe and I'm proud of what he did."
It was clear that the audience was on Bush's side, as it loudly booed Trump and cheered for Bush.
But Trump wasn't letting go of his line of attack Monday morning, vowing to come after both brothers if necessary.
"Now that George Bush is campaigning for Jeb(!), is he fair game for questions about World Trade Center, Iraq War and eco collapse? Careful!" Trump tweeted.
Bush hasn't always embraced his family legacy. Last summer, he seemed unprepared to answer the question of how he would have handled Iraq, painfully torn between needing to acknowledge the mistakes from the war and wanting to avoid criticism of his own brother.
And Bush has at times seemed irked by the inevitable comparisons that were drawn between himself and the former presidents in his family.
"I am my own man," Bush said last February as he was exploring a White House run.
For all the love for the Bushes in South Carolina, the political environment has changed sharply since 2000, when George W. Bush defeated John McCain in a notoriously nasty race.
Jeb comes into South Carolina having struggled for months and trailing in the national polls by a significant amount. The field is crowded with candidates besides Jeb who could also claim the conservative, military-minded and evangelical voters George W. Bush won. Most importantly, there is one man at the top of the pack who no one in the Bush clan imagined could become the party's front-runner.
"Donald Trump wasn't running then, you know," Bush told reporters last week. "It's a very different circumstance. Two-person race versus what's now a six- or seven-person race? Everything's changed."
Return to the trail for an ex-President
For George W. Bush, Monday marks his first return to national politics since he retreated to private life in Texas in 2009. Since leaving office, the 43rd President has shown no interest in assuming the role of elder statesman in his party. In the 2012 presidential race, Bush appeared to offer his endorsement of Mitt Romney only by chance, cornered by a reporter as he was stepping into an elevator.
George W. Bush's appearance on the trail could highlight the differences between himself and Jeb Bush — at least in style.
In contrast to his brother, who has been criticized this election for lacking confidence on the stump, George W. Bush is famous for his easy charm and the comfort with which he connected with voters. And seven years after leaving office, he is hugely popular in his party — a November Bloomberg poll showed 77% of Republicans holding a favorable view of the ex-President.
"I'm a Bush, proud of it. I love my brother. Love my dad, love my mother. It's part of who I am," Jeb Bush said last week. "He's the last Republican that was president, he is the most popular Republican alive."
South Carolina Sen. Lindsey Graham, who ended his own presidential bid in December and endorsed Bush, believes the state will be a turning point for the former Florida governor's campaign. Graham has often said that South Carolina loves the Bush family, and he predicted to CNN that George W. Bush's Monday appearance would be pivotal in the race.
"He's beloved here, he's very popular and I think it will be a dramatic moment in the campaign," Graham said of George W. Bush. "I think it means a lot to Jeb and I think South Carolinians will appreciate that W came back into the game in our state."
The ex-President isn't the only on the trail for Jeb.
Barbara Bush, the former first lady, hit the trail with Bush in New Hampshire, boasting to voters that her son is an honest and decent man.
Lower-profile Bushes have made cameo appearances as well: Jeb Bush introduced his uncle, John Bush, at a campaign stop in Mount Pleasant on Wednesday, and joked for two minutes about various members of his family, including a granddaughter, Georgia Helena Walker Bush, who has the same initials as Bush 41.
Trump also poked Bush for all the help his family was providing Monday.
"Funny that Jeb(!) didn't want help from his family in his failed campaign and didn't even want to use his last name.Then mommy, now brother!" the billionaire businessman tweeted.
Hogan Gidley, former executive director of the South Carolina GOP, said it is clear that South Carolina has a special place in its heart for George W. Bush, and that voters here remember Bush's comeback win in the state in 2000.
"They helped create him, they helped make him President," said Gidley, who advised Mike Huckabee for president before he left the race. "It's like that saying: 'I can talk about my mom but you can't … For the most part, he's our guy. He kept the country safe after 9/11.'"
As reported by CNN