Turkish troops respond to Assad army fire at its military guard post in the Hatay region, as well as shells Kurdish targets around the town of Azaz.
Turkey's military hit Kurdish and Syrian regime targets Saturday in the northern province of Aleppo, a state-run news agency reported, as Ankara mulled joint ground assault with Saudi troops.
Anatolia, quoting a military source, said the armed forces shelled Syrian Kurdish Democratic Union Party (PYD) targets around the town of Azaz, and also responded to regime fire on a Turkish military guard post in Turkey's southern Hatay region.
There were no further details on the nature of the Turkish strikes but they probably involved artillery fire from tanks.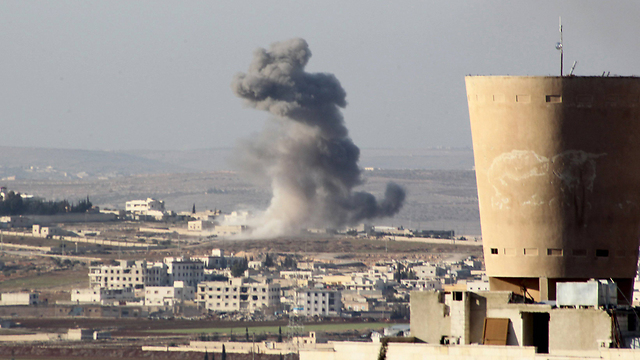 The Syrian Observatory for Human Rights said Minnigh airbase, recently taken by the Kurdish People's Protection Units (YPG) militia from Islamist rebels, was hit in the Turkish shelling.
Ankara considers the PYD and its YPG militia to be branches of the Kurdistan Workers Party (PKK) which has waged a decades-long insurgency against the Turkish state.
Saturday's shelling, which Anatolia said was in response to incoming fire, came shortly after Turkish Prime Minister Ahmet Davutoglu said Ankara would, if necessary, take military action against the PYD.
"We can if necessary take the same measures in Syria as we took in Iraq and Qandil," he said in a televised speech.
The premier was referring to Turkey's bombing campaign last year against PKK targets in their Qandil mountain stronghold in northern Iraq.
A YPG source told AFP that the Turkish shelling targeted the strategic Minnigh airbase, which Kurdish forces retook late on Wednesday.
As reported by Ynetnewsa