Prime Minister says gov't preparing multi-year plan to surround Israel with security fences 'to protect ourselves in the Middle East as it is today.'
The government is preparing a plan to entirely surround Israel with a security fence to "protect ourselves from the predators", Prime Minister Benjamin Netanyahu announced on Tuesday during a tour of the eastern fence under construction along the length of the Jordanian border.
The eastern fence is designed to safeguard the airport being built in the Timna Valley, and it includes observation posts. The cost of building the fence's 30 kilometers and fortifying the airport stands at NIS 288 million.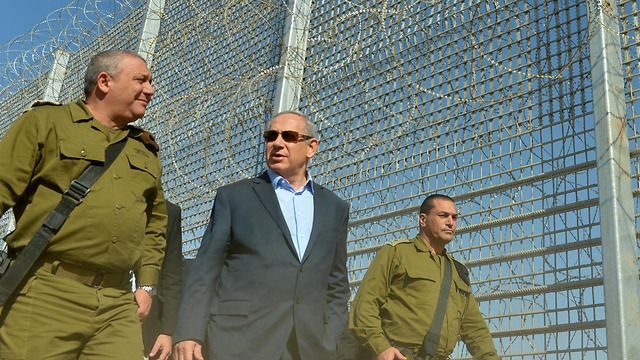 Netanyahu was accompanied on the tour by Transportation and Intelligence Minister Yisrael Katz (Likud), Chief of Staff Gadi Eisenkot, and the GOC Southern Command. (The prime minister also toured the area of the airport.) Five of the 30 kilometers approved by the Cabinet have been built since September.
"The advantage of building here and along the Egyptian border is that there are no structures adjacent to the fence, not one kilometer away and not two kilometers away, that could serve as an opening," said the prime minister. "That's not the case in Gaza. This is potentially not the case in Judea and Samaria, where there are structures built adjacent to the separation line you are considering forming, either. When you build a fence there, you have to take into account that tunnels are being built underneath. Those who said that territory doesn't carry importance in the modern era should go to Gaza.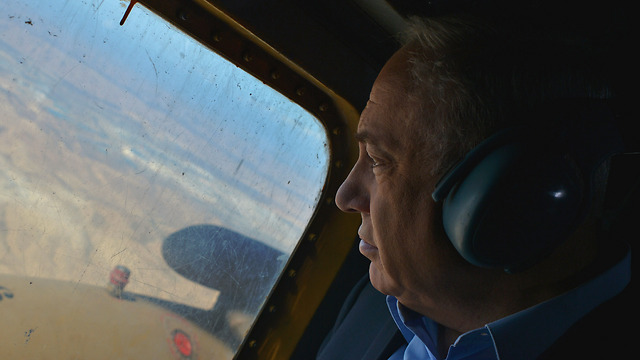 "Ultimately, the State of Israel as I see it will have a fence that surrounds it entirely," added Netanyahu regarding criticism of continuing the various fortifications and barriers. "They'll say to me, 'this is what you want to do, protect the villa?' The answer is yes. Will we surround the entirety of the State of Israel with a fence and obstacles? The answer is yes. In the environment in which we live, we must protect ourselves from the predators."
The prime minister said the government is preparing "a multi-year program to surround Israel with security fences in order to protect ourselves in the Middle East as it is today. In addition, we are preparing a program to close the breaches in the security fence in Judea and Samaria. This costs many billions and we are working on a multi-year program of prioritization, so that it's spread out over years, in order to build it gradually but complete it in order to protect the State of Israel."
As reported by Ynetnews