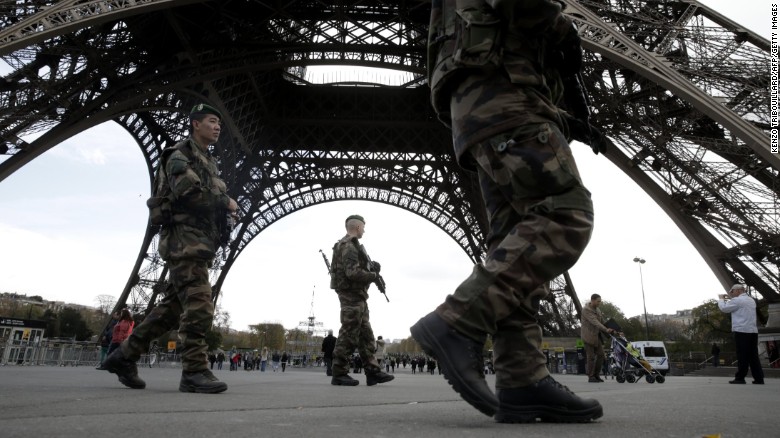 Intelligence obtained by Western security agencies before the November 13 Paris attacks indicated as many as 60 ISIS fighters had been deployed by the group to Europe to carry out attacks on five cities and had already reached European soil, a senior European counterterrorism source told CNN.
The intelligence indicated the target cities included Paris, London, Berlin and a major population center in Belgium, according to the source. It also indicated Abu Mohammed al-Adnani, the head of ISIS' external operations efforts, was the key figure behind the ambitious plan, the source said. There was no indication the plan was to attack the cities simultaneously.
The source cautioned the threat stream was based on intelligence which was fragmentary and difficult to verify, and it was too vague to act on. In addition, there was no specific intelligence prior to the Paris attack on any moving parts of the plot.
"In terms of ambition, it also just pointed towards something we already knew. ISIS had hardly made it a secret it sought to target Europe," said the senior European counterterrorism source.
In the year before the Paris attacks, Adnani had threatened the European countries supporting the anti-ISIS coalition in a series of audio messages, making specific references to France and Belgium. And in January 2015, Belgian police broke up a major ISIS plot in Belgium coordinated by Abdelhamid Abaaoud, who later became the ringleader of the Paris attacks.
Adnani is top target
The source said Western intelligence agencies believe Adnani is at the heart of ISIS' international attack planning. "As far as we're concerned, he is top of our target list," the source said.
The source said that the lack of specific intelligence on any moving parts of the Paris plot has caused consternation, because it is rare for any plot to fly completely under the radar. In most attacks that have gotten through, Western security agencies had picked up at least some specific chatter on planning, which they later realized related to the attack, the source said.
After the Paris attacks, new attention was focused on the fragmentary intelligence indicating 60 ISIS operatives had been deployed to Europe.
"The worry has been that if, say, 20 were involved in the Paris attacks, there might be 40 or so still out there," the source said.
Western intelligence agencies are worried that ISIS may plot an even more ambitious attack. Alain Winants, the former head of the Surete de l'Etat, Belgium's domestic intelligence agency, told CNN, "A lot of secret services are fearing now that what has happened in Paris could happen again, but simultaneously by several groups, in several different countries, which would of course have an immense impact."
'How many lions?'
On Sunday ISIS, in a new issue of its French language magazine, quoted similar concerns other officials have expressed in French media reports, raising the specter of simultaneous attacks in several European countries, including France. "How many of our lions have entered (Europe). Ten? Fifty? One Hundred? With God's Will you'll soon find out," the magazine stated.
Last week there were reports that the Paris ringleader himself had spoken of belonging to a group of 90 who made the trip to Europe, a figure not far off the number in the intelligence reports.
The claims were made in a French radio interview by a woman who said she alerted French police to Abaaoud's location in Paris after picking him up in a wooded area near Saint-Denis, along with her friend, Abaaoud's cousin Hasna Aït Boulahcen.
The woman said Abaaoud bragged to her during a taxi ride that the 90-strong group had traveled without official papers and included Syrian, Iraqi, French, German and British nationals who were now scattered around the greater Paris area.
CNN reported in December that a female "walk-in" had provided the key tip that led French police to a residence where Abaaoud was staying in the Saint-Denis area. Her account also matched an official confidential witness statement viewed by CNN.
In the months since the Paris attack there have been several terrorism alerts in Europe based on intelligence chatter, in cities including Brussels, Belgium; Hanover, Germany; Geneva, Switzerland; Vienna, Austria; and Munich, Germany.
Last week, a U.S official told CNN's Barbara Starr that the terrorist threat to Europe is as high as it's ever been, with about 1,900 extremists who went from Europe to Iraq and Syria to fight jihad now back on European soil. A U.S. intelligence official told CNN that France and Belgium were the countries considered to be at highest risk of terrorist attack, while Germany and the UK also face a heightened terror threat. These are the same countries referenced in the newly revealed intelligence reports from before the Paris attacks.
As reported by CNN