Hadar Cohen, 19, laid to rest in Yehud's military cemetery
Seconds before she herserlf was killed, Border police woman Hadar Cohen, 19, saved the life of her fellow officer and friend during Wednesday's attack in Jerusalem.
At her funeral a day later, her father Ofer, his voice filled with tears, saluted her freshly dug grave.
"They say you were a true hero, but they do not know your warmth, your love of life, your captivating smile," he said as he eulogized his daughter.
Hadar had been drafted into the Border Police just two months ago and had her swearing in ceremony just one week prior to the attack.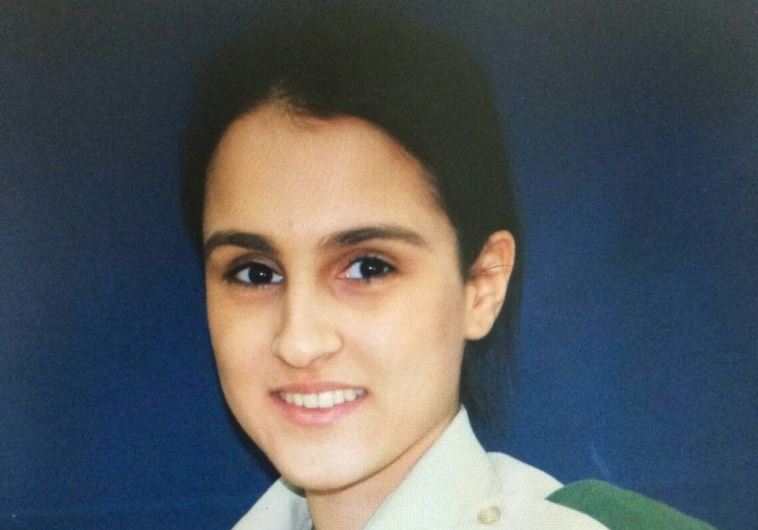 She and Border Police woman Ravit Mirilshvili were stationed at the Damascus Gate with other officers as part of their training, when they noticed two suspicious young Palestinian men sitting on a bench.
After they asked them for identification, one of the men took out a gun and another brandished a knife. He stabbed Mirishvili multiple times before Hadar shot him. She herself collapsed seconds later into unconsciousness from a bullet wound.
The two men along with a third friend, had planned a large attack in the city, but had paused by the Damascus gate. All three were killed in a short gun battle with the border police.
Doctors at Jerusalem's Mt. Scoops hospital were unable to save Hadar, who was buried Thursday in the small military cemetery in her home city of Yehud, in the center of the country.
"How can I part from you," said Ofer, who ended his short speech by stating: "I am proud of you and I salute you."
Hadar's commanding officer, Motti Elbaz, who also saluted her, recalled the tears of joy and happiness just the week before at the swearing in ceremony for the incoming police officers when the young woman promised to defend her country with her life.
"Who would have believed that just one week later your parents would be shedding tears of sorrow," he said.
When the attack occurred, "you responded with bravery and determination, killing one of the terrorists."
"In your death you saved the lives of citizens and prevented a national tragedy," Elbaz said.
Her sister Mor said, "my darling Hadar, you have now become the nation's darling. I am writing to you of my deep pain with tears of blood."
"How are we supposed to respond when we hear the knock at the door?" Mor asked.
"You were my role model," said Mor of her sister, who she said was a natural leader.
She recalled the party they held before Hadar entered the police force, and how she had spoken of how suddenly she saw in Hadar, not a girl, but a mature woman.
"Yesterday you stopped the terrorists with your body," Mor said and added, "how much senseless hatred there is."
Among those who came to the funeral was Mirilashvili, who stood with the other mourners, wearing a uniform and a white bandage over her head.
Interior Minister Gilad Erdan compared Hadar to past Israeli heroes, such as Yoni Netanyahu who in 1976 was killed rescuing hostages in Entebbe, and Major Roi Klein who during the second Lebanon war in 2006 jumped on a grenade to save the soldiers next to him from certain death.
"Every period has its challenges and its heroes," Erdan said.
"These are the days in which we are harvesting citrus fruit. But you were not supposed to be among the fruit that was plucked.
"You were supposed to remain a beloved daughter, a close sister, a supportive granddaughter and a faithful friend," Erdan said.
As reported by The Jerusalem Post