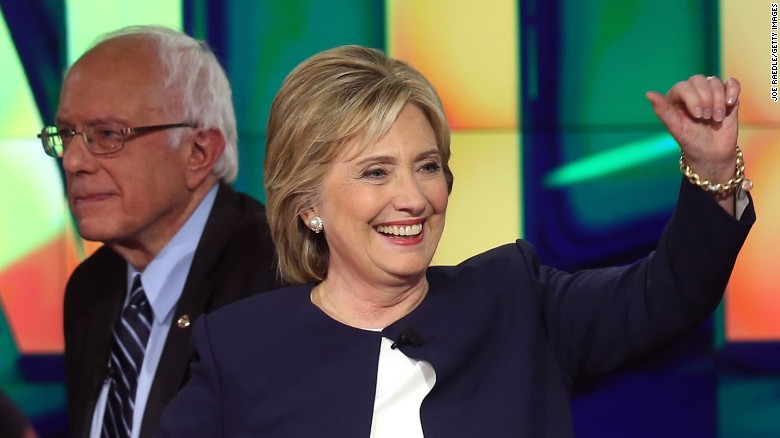 Derry, New Hampshire – Hillary Clinton has an uphill road in New Hampshire. She said so herself on Wednesday.
"A lot of political pundits have been opining, as political pundits do, that I should have just skipped coming to New Hampshire," Clinton told a crowd of supporters here, not identifying the pundits she was referring to. But she outlined what their argument might be.
"Their argument is — and it has got some strength to it — look, you are behind here, you are in your opponent's backyard," she said.
Vermont Sen. Bernie Sanders does live in the state next to New Hampshire, a fact Clinton is raising again and again as she attempts to lower her expectations for this state's first-in-the-nation primary that she won eight years ago.
Sanders' campaign scoffed at the notion that New Hampshire voters were supporting the Vermont senator because of his New England roots.
"I know that because our organizers are talking to voters every single day about the issues that matter to them," Sanders' New Hampshire State Director Julia Barnes said in a statement. "Whether it's equal pay, more secure retirement or affordable health care, the people of New Hampshire will go to the polls Tuesday and vote for the candidate they believe will fight for them. To repeatedly suggest otherwise is an insult to voters in the Granite State."
It's a rare time Clinton is embracing — true or not — her role as the underdog. A CNN/WMUR poll released on Sunday found Sanders leading Clinton 57% to 34% in the Granite State.
"I just could not ever skip New Hampshire," Clinton said Wednesday. "I cannot even imagine not being here."
The admission by her advisers that she could lose New Hampshire is calculated. By tempering expectations, a stronger-than-expected finish on primary night could be touted as a win.
"We are running to be competitive right now," Mike Vlacich, Clinton's New Hampshire state director, said on Tuesday. "At the end of the day, we still have a lot of work that we can do here in the next week."
Clinton is trying to cast Sanders as a rival with deep ties to the famously independent-minded state, someone whose win here is almost a foregone conclusion. The move, Clinton aides hope, could deprive the Vermont senator of a clean victory in New Hampshire and stem any momentum he could pick up heading into Nevada and South Carolina.
But Clinton's argument is complicated because she is actually fighting hard to win, with former President Bill Clinton traveling across the state on her behalf. And Clinton is drawing sharp distinctions with Sanders, saying she is the true progressive in the race.
"I hope we keep it on the issues," Clinton said Wednesday. "Because if it's about our records, hey, I'm going to win by a landslide."
Clinton's staff isn't giving up on New Hampshire. Her headquarters in Brooklyn has dispatched more than 100 staffers to help knock on doors and make calls in the state, according to aides, and her New Hampshire operation plans to blanket the state in surrogates is the coming week.
Clinton supporters in the state have also started reaching out to people who backed former Maryland Gov. Martin O'Malley, who suspended his campaign earlier this week.
"They are telling us that there is a space here for you if you want it," John Bivona, O'Malley's New Hampshire director, said of Sanders and Clinton's campaigns.
To be sure, Clinton is not without advantages in the state. She won the 2008 New Hampshire primary over Barack Obama. She's been endorsed by Gov. Maggie Hassan, Sen. Jeanne Shaheenand Rep. Annie Kuster, the three top Democratic women in New Hampshire politics.
New Hampshire voters also like to decide who to support late in the contest, which means spending considerable time and energy in the state could move poll numbers quickly. Forty-one percent of Granite State Democrats are still not solidly behind a candidate, according to last week's CNN/WMUR poll.
New Hampshire's sizable contingent of independent voters — who are allowed to vote in either the Democratic or Republican primaries — will wield considerable power in the 2016 race. With Republicans Jeb Bush, John Kasich and Chris Christie practically living in the state over the last month and mounting opposition among moderates against Donald Trump's candidacy, Sanders' top campaign aides are concerned some of his supporters could be enticed to vote in the Republican contest given the Vermont senator's sizable lead.
"I am here and I will be here all week, in small groups and large, making my case, answering questions," Clinton said Tuesday night in Hampton. "I am looking forward to every opportunity because I know people here have a choice. And I hope you will choose with both your heart and your mind."
Despite plans to camp out in New Hampshire, Clinton's campaign is also already looking ahead to Nevada and South Carolina, the next two early voting states. Clinton's first post-Iowa ad was not run in New Hampshire, but in South Carolina.
Jim Demers, Obama's 2008 New Hampshire co-chair and a noted gambler, offered this when asked if he would bet on Clinton: "First of all, I am a betting man. Second, I would look at the odds."
"I think we are in an uphill fight right now," he added, "but I am one who has vivid memories of 2008, having been a supporter of Barack Obama and coming in with a 12-point lead and losing by two. I know well that New Hampshire voters decide late."
Demers and others point to history to justify Clinton's neighbor argument, reaching all the way back to Henry Cabot Lodge's surprising write-in victory in 1964. Lodge was from neighboring Massachusetts.
"The historical record does back up this feeling that the neighbor usually wins here," said Demers.
Even Terry Shumaker, the co-chair of Bill Clinton's 1992 campaign and an unabashed Clinton supporter, was fawning in his assessment of Sanders, arguing that the senator had "captured the imagination and support of particularly the more idealistic people in the Democratic Party and we have always had a strong, progressive liberal elements within the New Hampshire Democratic Party."
"I am not going to say longshot," Shumaker said of Clinton's bid in New Hampshire, "but (it) is certainly uphill."
As reported by CNN