Terror tunnel collapses on 11 members of the Izz ad-Din al-Qassam Brigades because of rain and flooding; 3 were able to escape, but 8 remain missing.
Eight members of the Palestinian militant group Hamas were missing Wednesday after the collapse of a tunnel in the Gaza Strip caused by rain and flooding, a security source said.
The tunnel collapsed overnight in the area of Jabalia in the north of the Palestinian enclave after several days of rainfall, the security source in the area said on condition of anonymity.
"The resistance tunnel collapsed last night due to the weather and flooding," the source said, adding that the tunnel belonged to Hamas, the Islamist movement that rules the Gaza Strip.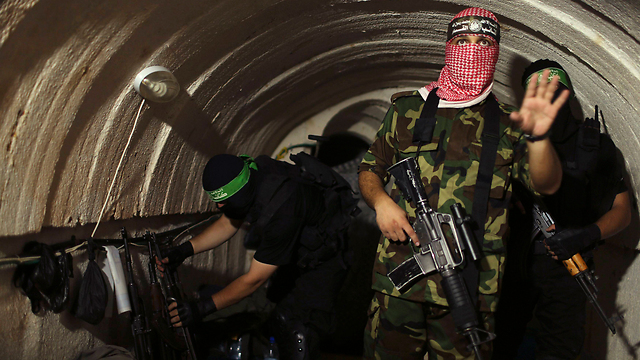 "There were 11 resistance men inside. Three of them escaped in the first hour after the accident, but the security operation… continues to search for the eight others."
Hamas's armed wing, Izz ad-Din al-Qassam Brigades, later confirmed in a statement that one of its tunnels collapsed.
It said searches were continuing for the missing, without providing a number or further details.
It comes at a time of renewed focus on tunnels in Gaza, with Israel accusing Hamas of reconstructing them following its 2014 war with Palestinian militants in the enclave when many were destroyed.
Such collapses have previously occurred in the coastal strip. On Saturday, a tunnel collapse killed a 30-year-old man, according to Hamas officials. Residents said the tunnel was located in Al-Maghazi in the central Gaza Strip.
In December, 14 Palestinians were rescued after being stranded for hours in a tunnel near the Egyptian border when it flooded and partially collapsed.
As reported by Ynetnews