The prime minister defends the relationship between Israel and the US at the weekly cabinet meeting on Sunday, saying that 'special relationship is reflected in many spheres.'
Prime Minister Netanyahu defended the state of the US-Israel relationship at a meeting with his cabinet this morning, and said that the relationship was rock-solid.
"I want to thank President Obama, who has decided to be present at the event marking International Holocaust Remembrance Day at the Embassy of Israel," said Netanyahu.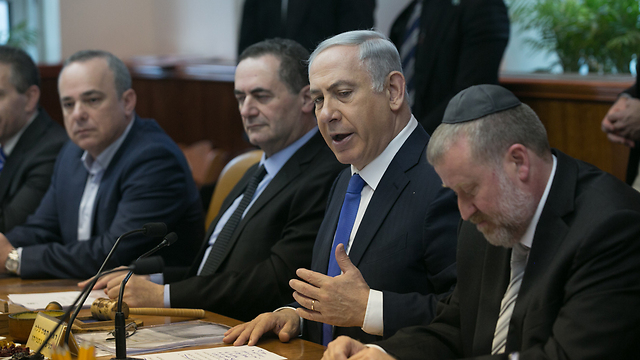 "The President of the United States has not been at Israel's Embassy for many years," noted Israel's prime minister. "This is further evidence that US-Israel relations, despite differences of opinion that arise from time to time, are very strong and solid."
Netanyahu also addressed statements made by many in the last few years that the US-Israel relationship collapsed over disagreements between the White House and Israel over theIran nuclear agreement and Israel's policies in the West Bank.
"We heard over the last couple of years talk about the collapse of the relationship," said Israel's prime minister. "What collapsed was the discussion about such a collapse, and what is going to become clear is that this special relationship is reflected in many spheres."
"One of them is of course the memorandum (of understanding) that we're trying to establish, which it appears that we'll finish I hope, in the coming months, with the United States, on themilitary aid package to Israel for ten years," Netanyahu added.
The current memorandum of understanding in which the US provides approximately $3.1 billion annually in military aid to Israel, expires in 2017. Both the US and Israel have yet to reach an agreed annual amount for a renewed memorandum of understanding.
Netanyahu also said that the close relationship between the US and Israel was expressed in his conversations with US Vice President Joe Biden and US Secretary of State John Kerry at the World Economic Forum in Davos, Switzerland earlier this week. "These relations also came to be reflected in the conversations that I had in Davos with Vice President Biden and Secretary of State Kerry," said Netanyahu.
The Israeli prime minister also claimed that the US-Israel relationship was strong in large part due to Israel's strategic importance for the US in the Middle East.
"Everyone understands that with this maelstrom in the Middle East, and the rise of radical Islamic forces, ultimately, Israel is the most stable, faithful and strongest ally of the United States in the region, and this is also reflected in the shared values ​​and common interests that we promote," Netanyahu added.
As reported by Ynetnews