Eight museum employees will be charged with negligence after a botched reattachment of the beard on King Tutankhamun's mask, Egyptian authorities said.
King Tut's burial mask is displayed at the Egyptian Museum in Cairo and is considered a valuable artifact from ancient history.
There have been differing accounts of how the mask's blue-and-gold braided beard broke off since its damage came to light in 2014.
At the time, a museum conservator said the beard detached when the mask accidentally fell during cleaning. It was quickly reattached with a strong adhesive, but the glue left a gap between the face and the beard, the conservator said.
Others said the beard loosened with age.
Museum officials dismissed the claims when they emerged, saying reports of the mask's damage were unfounded.
Investigation opened
Prosecutors opened an investigation into the damage last year, saying workers did not follow protocol during restoration.
"The (museum) officials dealt recklessly with a piece of an artifact that is 3,300 years old, produced by one of the oldest civilizations in the world," the Administrative Prosecution said Saturday in a statement to state-run Ahram Online.
Prosecutors said the eight people who will be charged are six restorers and two former heads of the restoration section at the museum.
They are accused of negligence and violation of the professional rules of the workplace, the statement said.
It did not say when the trial will be.
Boy king
The boy king's elaborate burial mask, discovered in his tomb in 1922, is major tourist attraction and draws visitors from all over the world.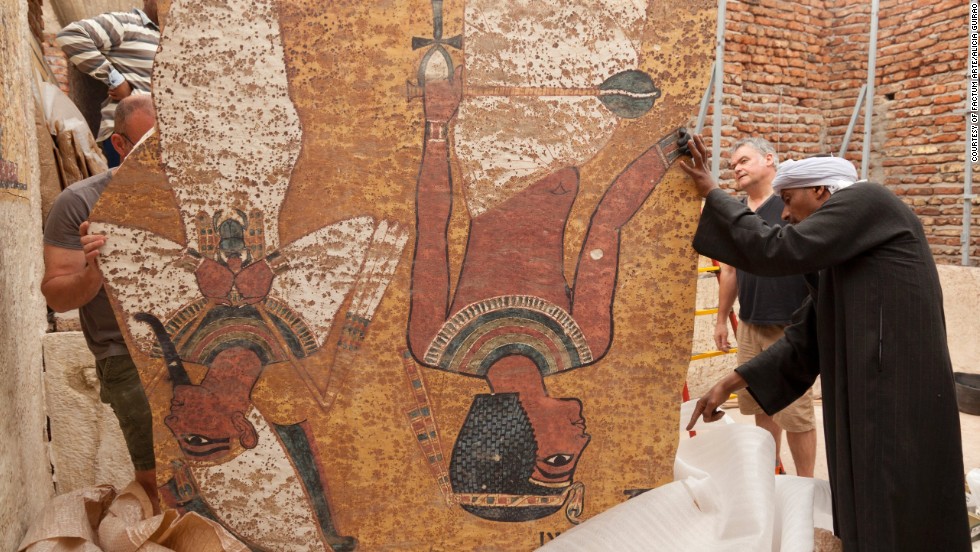 Tutankhamun, who ruled from 1336-1327 BC, is thought to have been about 17 years old when he died.
Mask fixed
After the botched attempt, the museum brought in experts who fixed the mask.
King Tut's case is not the first time a historical treasure was damaged in a place where it's supposed to be safe.
Last year, a boy tore a hole in a $1.5 million artwork during a visit to a Leonardo da Vinci-themed show in Taipei, Taiwan.
As reported by CNN