Jewish billionaire and three-time New York City Mayor Michael Bloomberg has told advisers to plan a run as an independent – just before the start of what promises to be a tumultuous primary season.
Michael R. Bloomberg, the Jewish billionaire who served as mayor of New York City for three terms, has instructed advisers to plan for an independent run in the 2016 presidential race, the New York Times reported on Saturday.
Bloomberg has been an independent since 2007. Between 2001 and 2007, he ran as a Republican.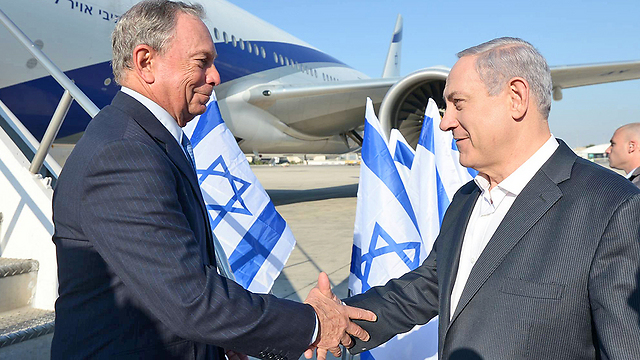 Bloomberg, 73, has given himself an early March deadline for entering the race, the Times reported, after commissioning a poll in December to see how he would fare against Donald Trump and Hillary Clinton, the current Republican and Democratic frontrunners respectively.
Bloomberg has advised friends and associates that he would be willing to spend at least $1 billion of his own money on a campaign for the November 2016 election, the Times said, citing sources briefed on the former mayor's thinking.
One anonymous Bloomberg adviser told the Times the former mayor believes voters want "a non-ideological, bipartisan, results-oriented vision" that has not been offered in the 2016 election cycle by either political party.
According to the newspaper, the uncertainty of the two major parties' nominations has revived Bloomberg's interest in running as a third-party candidate, which he has nixed in the past because the chance of an independent candidate winning the presidency was slim.
If a populist Republican like Donald Trump and Ted Cruz, who lack support from the party establishment, or Democrat Bernie Sanders receive the nominations, Bloomberg would likely step in, said the Times.
Regarding the potential effects of such a run, the newspaper reported that it was "unclear whether Mr. Bloomberg would be more likely to draw support from a Democrat, like Mr. Sanders or Mrs. Clinton, or a conservative Republican."
Though no third-party candidate has ever claimed the White House, several previous bids have affected the overall makeup of the race. In 1992 Texas businessman Ross Perot ran as an independent, a decision that some believe helped Democrat Bill Clinton defeat incumbent Republican George H. W. Bush.
As reported by Ynetnews