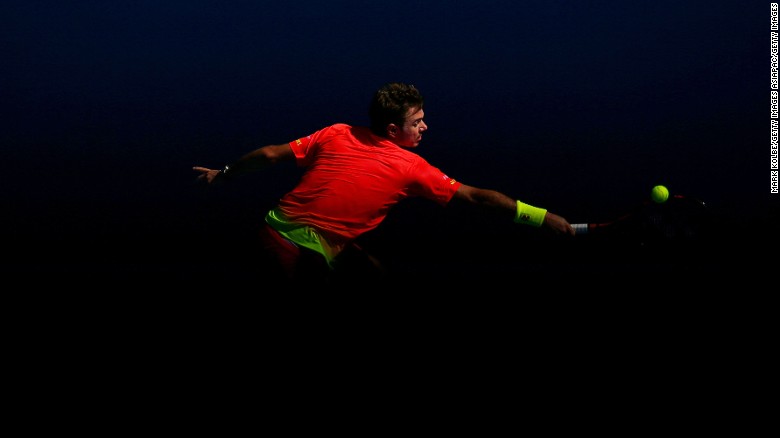 Melbourne – At the French Open last year, Stan Wawrinka's plaid shorts drew almost as much attention as his glittering play. The red, white and gray boxers even spawned a couple of comical Twitter accounts.
Now it's his shirt, mainly, that's causing a stir at the Australian Open.
A tinge of lime green and orange feature but a hue of fluorescent peach is the dominant color.
It hits you like an Australian heat wave, matching shorts in tow.
You can't miss him on the court, which the Swiss acknowledged himself after a routine third-round win over Lukas Rosol 6-2 6-3 7-6 (7-3). He collected the 400th win of his career a day after countryman Roger Federer won his 300th at grand slams alone.
"At least everyone can see me in the stadium," Wawrinka joked to the crowd.
He spoke in a croaky voice, the result of a minor illness earlier in the week, and elicited more laughs from those at Rod Laver Arena when he light-heartedly added in the interview with four-time grand slam champion Jim Courier: "I don't really need my voice. If I can talk, I talk too much s***."
Congratulations @stanwawrinka on 400 @ATPWorldTour level match wins! #ausopen #atp pic.twitter.com/i7BpGcI2ld

— Australian Open (@AustralianOpen) January 23, 2016
Indeed, bizarre attire may be a good luck charm for the 30-year-old: He won the French Open last year to banish any notion of being a one-slam wonder.
Wawrinka's stunning — when it's working, and it usually is — one-handed backhand regularly has onlookers drooling. As his coach, Magnus Norman, told CNN, "he can wake up in the middle of the night but still play an amazing backhand."
Improved forehand
Yet the backhand can't win grand slams all by itself and Wawrinka's progress on the forehand is what, arguably, has turned him into a grand slam winner.
The consistency has improved and when he's firing off both sides, few can stop him, including world No. 1 Novak Djokovic.
While Djokovic regularly defeats Federer, Andy Murray and Rafael Nadal at majors, he's had a far tougher time with the world No. 4 thanks partly to the improved forehand.
"For sure it's been a key for those big matches that I won," Wawrinka, still perfect this year after claiming a fourth title in Chennai, told reporters. Before, the 2014 Australian Open winner "was struggling in the important points, important moments" with the forehand.
"Now I don't anymore. Now I trust my forehand, that's for sure."
As Nadal, seemingly, bids to hit his forehand with less spin and flatten the shot out to arrest a slump, Wawrinka is moving in the opposite direction.
"If there was something we worked on over the last couple of months a little bit more, it's the forehand," said Norman, a French Open finalist 16 years ago. "We spend a little more time trying to develop a little more height over the net. Not going so close to the lines. More spin.
"And on defense to try to play a little bit higher over the net.
"I think he's feeling quite well with that. Already in Chennai he said it went well with that. And this week as well."
Norman, who likes his pupil's shorts, by the way — "I actually like to see him play in it; I would definitely wear it," the Swede said — would take a continuation of Wawrinka's form on the forehand when he plays Milos Raonic in the fourth round. Wawrinka's serve was working, too, Saturday. He struck 18 aces versus the man who stunned Nadal at Wimbledon in 2012.
Like Wawrinka, Raonic is perfect so far in 2016, triumphing in Brisbane, where he upset Federer in the finale. The Canadian has an even heftier serve than Wawrinka.
Raonic had a similarly comfortable time in the third round, ousting Serbia's Viktor Troicki 6-2 6-3 6-4.
Wawrinka leads their rivalry 4-0 although Raonic won an exhibition in Abu Dhabi on New Year's Day.
"It's a tough fourth round for both of them, actually," said Norman.
"But I think we are well prepared. Stan is hitting the ball well as well. Normally the matchup is tough for Stan but if he's sharp mentally and physically, I think he's going to be hard to beat."
David Ferrer, the eighth seed and a longtime member of the top-10 who ended Lleyton Hewitt's singles career Thursday, dispatched Steve Johnson 6-1 6-4 6-4 and meets another American next, John Isner.
The 10th-seeded Isner, seeking a first grand slam quarterfinal in five years, knocked off Feliciano Lopez 6-7 (8-10) 7-6 (7-5) 6-2 6-4.
"Once I got the second set I knew I had a very good shot at that match, so I just kept going," said Isner, likely aware that Lopez played for 4½ hours in the second round.
Azarenka on a roll
Victoria Azarenka has been picked by many to win on the women's side and there's nothing to suggest she'll stumble anytime soon. Indeed she could be on course to face 21-time grand slam winner Serena Williams. Azarenka, the women's champion in Brisbane, crushed promising Japanese baseliner Naomi Osaka 6-1 6-1.
Osaka broke in the first game but couldn't keep it up, hindered by an abdominal injury. Even fully fit, she may not have had much success against Azarenka anyway — the Belorussian hasn't lost a set this year.
54,825 have packed into Melbourne Park for Day 6! Previous record day attendance was 53,928 in AO2013. #ausopen pic.twitter.com/qotVHdxSDf

— Australian Open (@AustralianOpen) January 23, 2016
Azarenka, trying for a third title in Melbourne, will encounter a familiar foe in Barbora Strycova in the fourth round, having defeated the Czech at the Australian Open the previous two seasons.
Strycova upset off-form third seed Garbine Muguruza, the 2015 Wimbledon runner-up, 6-3 6-2.
Men's second seed Andy Murray highlighted Saturday's evening session, which was marred by the collapse of his father-in-law Nigel Sears. Murray, beaten by Djokovic in last year's final, overcame Portugal's 32nd seed Joao Sousa 6-2 3-6 6-2 6-2 to join fellow Briton Johanna Konta in the round of 16.
Konta, born in Sydney but a UK resident since her mid-teens, became the first British woman to make the fourth round at the Australian Open since 1987 after beating Denisa Allertova 6-2 6-2. Her next opponent is Russia's 2015 semifinalist Ekaterina Makarova, into the fourth round in Melbourne for the sixth straight time.
As reported by CNN