The mother of six who always told people that life was as "good as honey" was killed on Sunday evening, as she stood just inside her doorway.
A tear-choked Renana Meir, 17, apologized over her mother's body on Monday for not preventing the Palestinian terrorist from stabbing her to death.
"I am sorry that in your most difficult moments I was not able to help you," Renana said, as she looked out at the hundreds of mourners.
They had braved the cold afternoon wind to crowd around the shroud-covered body of Dafna Meir, 38, which lay on a gurney on the pavement in the parking lot of Jerusalem's Har Hamenuhot Cemetery.
The mother of six who always told people that life was as "good as honey" was killed on Sunday evening, as she stood just inside her doorway.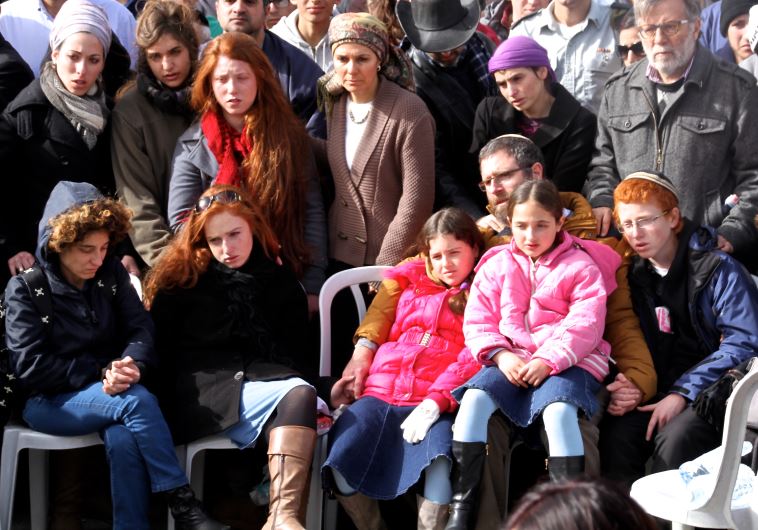 Both Dafna and Renana fought with the terrorist, who then fled their home in the settlement of Otniel in the South Hebron Hills.
Just an hour earlier Dafna and her daughter Renana had hung out together in the kitchen.
"I sat and ate as you organized father's things. Suddenly you reminisced about times in the past when I had sought advice from you.
You remembered that on Thursday I asked you what nail polish to use, and then I chose the one that you suggested," Renana said.
"You were always surprised that I consulted with you at an age when most teenage girls do exactly the opposite from what their mothers want," she said. "You told me, 'I enjoy the fact that my opinion matters to you.'" "Look, mother, how many people care about you and have come to accompany you on your final journey. You have left a large void in our hearts. It is hard for me to imagine that we will never laugh together again. We won't fight anymore. We won't sit and drink tea together at midnight," she said.
She noted that from here on, her mother would be absent from all the significant moments in her life: her induction into the army, her wedding and the moment when she would give birth to her own child – all her life changing moments.
With her mother's death, Renana said, "I lost not just a mother, but a mother who was also my best friend."
Just days before her death, Dafna had penned a blog in which she described her fears with regard to the deteriorating security situation in the West Bank and in Israel in general.
"The situation is not easy and sometimes it feels like [a game of] Russian roulette," she wrote.
Her funeral began at 9 a.m. in Otniel then left in a convoy of vehicles for Jerusalem, where the main eulogies were delivered.
Those who spoke about her described an optimistic woman who devoted her life to children and healing, both in her work as a nurse in the department of neurosurgery at Soroka University Medical Center in Beersheba and as someone who specialized in female infertility. She also offered advice online and authored a blog.
Culture and Sport Minister Miri Regev (Likud) recalled that Dafna "helped many women bring life into this world."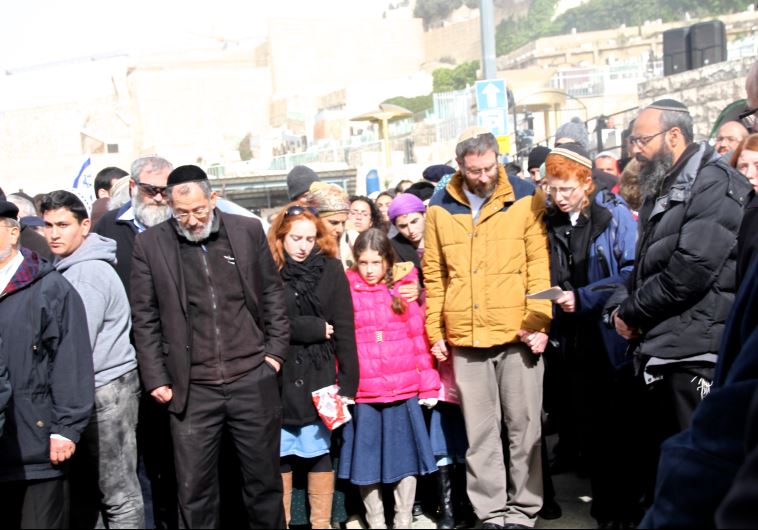 As Regev spoke she looked out at Dafna's four children – Renana; Akiva, 15; Noa, 11; and Ahava, 10 – who huddled with their father, Natan. The younger girls, with their pink winter coats and blue-jean skirts, sat on Natan's lap.
The couple was also raising two foster boys, Yair, 6; and Yaniv, 4. Dafna herself had been a foster child. Her adopted mother Atara described how Dafna had arrived in their home through a special program on her 13th birthday.
"I remember the first time you came to us! I wanted to hug you and you moved two steps back. You didn't know what love or a family was," she said. "Over time that changed. We were so happy with you. We had four boys and two girls and you became our third daughter."
She described how Dafna entered the army at age 18 and within months met her future husband. She brought Natan home and married him soon after. From the start Dafna made Natan promise to raise foster kids, no matter how many biological children they had.
This is exactly what happened, Atara said. They took in two brothers, Yaniv and Yair, when they were very small. Just as Dafna was once small and lost, she emerged a vibrant woman who devoted her life to giving.
"I remember the last conversation we had a few days ago. I asked her, how is it that you accomplish so much? She answered, 'Atara, I live my life as if each day was my last. And then I finish what I want to and do what I need to,'" Atara recalled.
Natan Meir said, "We met as soldiers on the border of Southern Lebanon. Within a minute we fell in love. And in a minute you were taken.
I am grateful for every minute I had with you."
His wife, he said, was "one in a million" who overcame a difficult childhood to devote herself to filling the world around her with kindness.
Now the vessel that contained her special glow was broken. He asked those at the funeral to pick up its sparks and carry them forward in her memory. To his wife, he said, "Thank you for every moment we spent together. I apologize for those times that I hurt you. Our love is too powerful to fade."
As reported by The Jerusalem Post