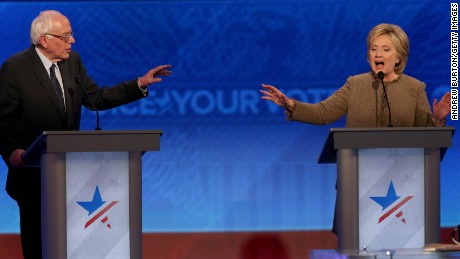 Democratic presidential candidates on Sunday meet for their last debate before voting begins next month as a polling surge by Bernie Sanders hands him a realistic chance to beat front-runner Hillary Clinton in the first two nominating states.
The clash has the potential to be more contentious and personal than the previous three Democratic debates, after Clinton's campaign reacted to Sanders' rising profile in Iowa and New Hampshire by amping up attacks on the Vermont senator.
Clinton hopes to use the 9 p.m. ET debate in South Carolina on NBC to press home her argument that she is the most electable Democrat, alone has the experience required of a commander-in-chief and is more likely to beat a Republican in the general election. Given that the debate is in South Carolina, Clinton is also likely to tout her connections to African-American voters, who are crucial in the Palmetto state primary and could form a firewall for her should she lose the first two contests in early February.
"This is a spirited debate because although we share some very similar goals for our country, we have differences," Clinton told CNN's Jake Tapper on "State of the Union" on Sunday.
Clinton, hoping to chip into Sanders' advantage among progressive Democrats, including young, independent and first time caucus and primary goers, has been hammering her rival over his positions on gun control and health care. In response to the pressure, Sanders on Saturday backed away from a 2005 vote that gave gun manufacturers immunity from prosecution, announcing he supports a proposed bill to amend that vote.
Clinton told Tapper that she was glad that Sanders had "flip-flopped" on the issue, but Sanders told the same show that "I resent very much the Clinton camp saying I am in the NRA lobby."
The gun debate may have special resonance in Charleston following the outpouring of grief triggered when a self-proclaimed white supremacist killed nine African-Americans at a Bible study meeting at the city's Emanuel African Methodist Episcopal Church last year.
An hour before the debate started, Sanders unveiled his long awaited new health plan — a Medicare-for-all system that would be paid for by raising a series of taxes on the middle class. Clinton has previously questioned exactly how Sanders could make his plan add up. But Sanders aides argue that the tax increase people would face would be outweighed by the savings they would get under the system.
"Universal health care is an idea that has been supported in the United States by Democratic presidents going back to Franklin Roosevelt and Harry Truman," Sanders said in a statement. "It is time for our country to join every other major industrialized nation on earth and guarantee health care to all citizens as a right, not a privilege."
Earlier Sunday, Sanders balked at an attack leveled by the former secretary of state's daughter, Chelsea, who charged that his health care plan would empower Republican governors to limit Medicare coverage.
"I was a little disappointed that what Chelsea said was simply not accurate," Sanders told Tapper, adding that the Clinton campaign should not suggest that "my ideas will leave millions of people without health insurance."
The Sanders campaign has also slammed a call by David Brock, the head of Clinton's super PAC, for the release of the 74-year-old senator's medical records but said he will provide a letter for his doctor showing he is in "excellent" health before the Iowa caucuses.
Sunday's debate in Charleston will take place amid new turbulence in the Democratic race, which is forcing Clinton to concentrate more on Sanders after spending much of the year targeting Republicans in a preview of a possible general election strategy.
A new NBC/Wall Street Journal national poll on Sunday showed Clinton leading Sanders 59% to 34%, with the third candidate in the race, former Maryland Gov. Martin O'Malley at 2%.
But recent polls in Iowa and New Hampshire also show Clinton in an increasingly precarious position. A Des Moines Register/Bloomberg Politics survey had Clinton up just two points in the Hawkeye state last week. A survey by Monmouth University in the Granite State last week had Sanders ahead by 14 points.
While Clinton leads nationwide, losses in Iowa and New Hampshire would revive memories of how her 2008 campaign against Barack Obama fizzled and may have the potential to reset the Democratic White House race.
As reported by CNN