Hong Kong – Voters in the only Chinese democracy are expected to elect Taiwan's first female leader when they go to the polls Saturday for presidential and parliamentary elections.
Polls suggest a landslide win for Tsai Ing-wen, the leader of the Democratic Progressive Party (DPP), after eight years under the pro-China Kuomintang, or Nationalist, party.
The DPP has traditionally leaned in favor of independence — a highly charged issue with China viewing Taiwan as a breakaway province that could be taken back by force if necessary.
But that's not the only factor at stake in what is a landmark election for the young democracy, where people take their right to vote extremely seriously.
Stella Han, who is among the roughly one million Taiwanese living in China, says she will fly back from her current home in Shanghai for election day. She plans to vote for the DPP.
"I hope that Taiwan won't rely on China too much. It needs to find a way out," she says.
Who are the key players?
Tsai, 59, is viewed as a pragmatic leader who is likely to largely maintain the closer ties with China forged under current President Ma Ying-jeou.
Her main opponent is Eric Chu of the ruling KMT and she's also up against James Soong from the People First Party.
But the real drama may come in the parliamentary vote. A record 556 candidates are in the race for 113 seats. The DPP is tipped to do well as are smaller opposition parties.
The ruling KMT is in danger of losing control of the Legislature for the first time. The island elected its first president in 1996 after more than four decades of martial law and one-party rule.
Taiwan's free-wheeling democracy is in sharp contrast to China's one-party state and a cast of colorful candidates are contesting seats: an ex convict, an alleged spy and the front man of Asia's biggest death metal band.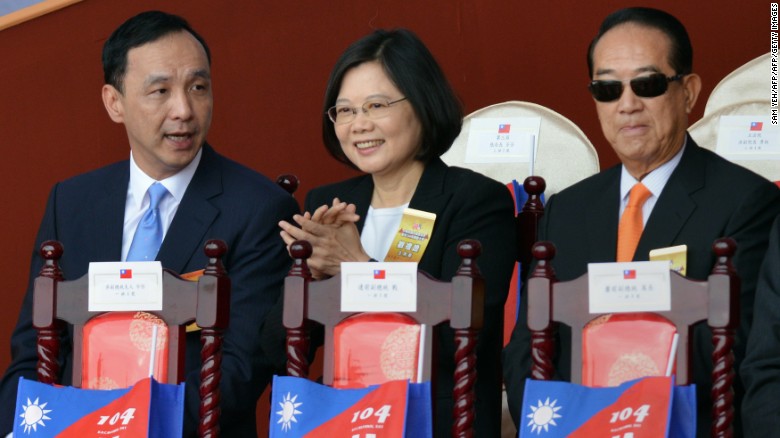 What's the deal with China?
Divided by a sea channel and decades of bitter history, China and Taiwan — officially the People's Republic of China and the Republic of China — separated in 1949 following the Communist victory in the civil war.
The two sides have been governed separately since, though a shared cultural and linguistic heritage mostly endures — with Mandarin spoken as the official language in both places.
Ties warmed under current President Ma — with direct flights, postal and shipping links and introduced for the first time in 2008. And in November, leaders from both sides met for the first time at historic summit in Singapore.
However, the island's new leadership will have an uphill battle dealing with their giant neighbor. An increasingly organized younger generation is especially wary of closer ties.
In 2014, scores of student protesters stormed and occupied Taiwan's Legislature and Cabinet building to object to a trade pact that symbolized Taiwan's deepening relations with mainland China in what became known as the "Sunflower Movement."
What else is at stake?
The future of Taiwan's long dispute with China will always frame the political debate — but for many in Taiwan the economy is the crux of the issue and candidates are seeking to show how they can improve the financial future of the island's 23 million residents.
The new president will be taking on sluggish growth — as weakening global demand hits exports. Unemployment among 20-to-24-year-olds stands at 12% — three times the national average, according to official statistics.
That's already forcing Taiwan's hand on ramping up trade ties with China, but critics say the increased deals only favor Taiwan's wealthy elite and haven't helped improve stagnating wages.
"I hope that Taiwan can be more independent from the mainland, both economically and politically. Maybe Taiwan can trade more with other countries," says student Johnny Yeh, who will be casting a vote for the first time on Saturday.
As reported by CNN