Op-ed: Boycotting IKEA is not the answer to Sweden's comments against Israel. The European Union is not our enemy. By realizing this, Yair Lapid got Mogherini to declare she opposes the BDS movement. Why can't the government realize it too?
The European Union is not the enemy. There is extensive cooperation between Israel and the EU, and the advantages of this cooperation to the Israeli economy are priceless. There is no boycott against Israel, nor on settlement products. There's a labeling of products, which is annoying, unnecessary, and is a result of encouragement from the BDS campaign, among other reasons. But it's not a boycott.
EU foreign policy chief Federica Mogherini declared that she opposes the BDS movement at a meeting with Yesh Atid leader MK Yair Lapid. Why is it, one wonders, that none of the ministers of the Israeli government were able to get such a statement from her?
The answer is obvious – the government has no foreign minister. But Lapid has been operating as a foreign minister over the past few months. Not Israel's, nor the government's. That's not his job, the punctilious would say – and they're right. But he serves the national interest, and that's what's important. His positions on settlements, for example, are well known. He is merely proving that you can be against the government and in favor of Israel. That's something the left-wing is unable to comprehend, and that's a shame.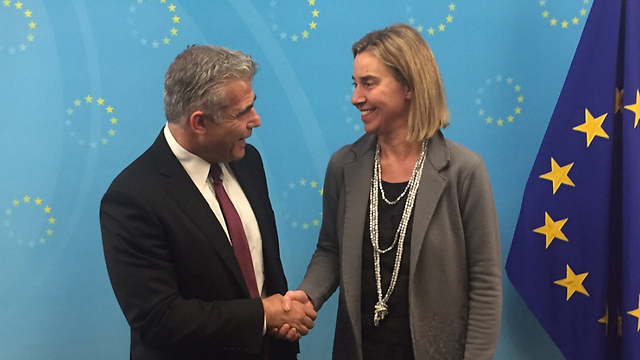 The real problem is the EU's large-scale support of organizations and entities that back the BDS movement. Most of the EU's parliament members don't know about this support. The decisions are mostly made by the European Commission. This is the reign of the bureaucrats.
In that sense, Mogherini's declaration must lead to action: Stopping EU support of the BDS movement. It is, after all, absurd – more than absurd – that the EU provides backing to organizations that support the destruction of Israel.
The usual excuse from EU spokespeople is that the EU's support is only of human rights projects. That's feigning innocence. These organizations' main activity is in the campaign for the destruction of Israel through the demand for the "right of return" and through demonization.
The EU can be persuaded, but not with counter-boycotts. Former foreign minister Avigdor Lieberman's call to boycott IKEA products because of Sweden's controversial statements against Israel is akin to scoring a goal against your own team. If the Swedish foreign minister's comments justify a boycott against her country, then the occupation provides justification for the boycott against Israel.
Israel needs to reconcile with the heads of the EU, not call for war. They can sometimes be irritating, but they're not our enemies. Yair Lapid can understand that, and is achieving something. It's unclear why the Israeli government refuses to understand that.
As reported by Ynetnews