During debate on 'child prisoners of the Occupied Palestinian Territories', pro-Israel MK Andrew Percy displays the rock-throwing 'incitement dolls' seized by Israel last month as an example of Palestinian incitement.
The rock-throwing "incitement dolls" seized by Israel at Haifa port last month were at center stage of a British parliamentary debate Wednesday initiated by a Member of Parliament known for her hostility to Israel.
Sarah Champion of the Labour Party called on the British government to prepare a "watchlist" of Israeli officials suspected of war crimes and investigate them when they come to the United Kingdom.
Champion released an article on the situation in the Gaza Strip a few ,months ago which included lies, and was forced to amend the article after being confronted on Twitter by the Israeli embassy.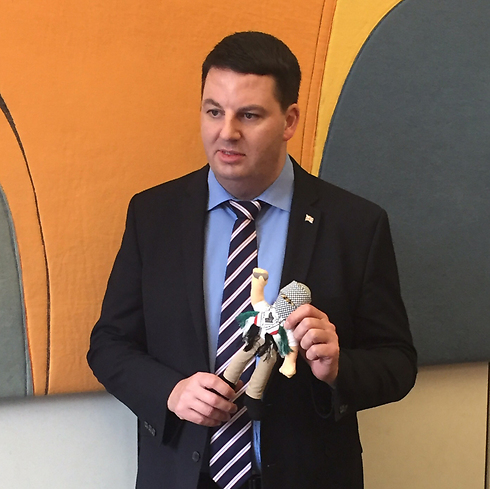 The topic under debate in the Parliament was debate 'Child prisoners and detainees in the Occupied Palestinian Territories'. The Israeli Embassy prepared in advance and briefed several British MPs who then brought up the issue of Palestinian incitement.
The high point was when the Conservative Party MP Andrew Percy displayed the "incitement doll" used to encourage Palestinian children to oppose Israel as a factor that contributes to the atmosphere that leads to terror attacks against Israel.
"Imagine if this were an Isis doll distributed in British schools and imagine the outrage. But this issue seems to have been hijacked by a coalition of those on the hard left, with a smattering of anti-Semites, and those looking for a new South Africa", said Percy.
An embarrassing moment during the debate occurred when MP Simon Danczuk spoke with concern about Palestinian minors detained in Israeli prisons as Danczuk was recently suspended from the Labour Party because of allegations relating to his behavior towards a minor.
Sarah Champion accused Israel of using disproportionate force against Palestinian children throwing stones. She called on her government to prepare a black list of Israelis who committed war crimes by detaining and interrogating Palestinian children. She also accused the Israeli security services of "mass intimidation and collective punishment" of Palestinians in order to protect Israeli settlers in the West Bank.
Opposing her were pro-Israel MPs who blamed the Palestinian Authority for ignoring incitement, arguing that Champion was judging Israel unfairly ignoring the gross violations of human rights in countries such as Saudi Arabia. MP John Howell said that Israel is a state of law and that minors brought before courts were represented by lawyers of their choosing and have the option of appealing.
Labour MP Ian Austin pointed out that Palestinian TV broadcasts anti-Semitic programs for children. He also brought up the story of Adele Biton, a 4-year-old critically injured by stones in an attack who died two years later.
Middle East Minister Tobias Ellwood said that the government would continue to "support Israel in the challenges it faces", and noted that "Israel is a democracy in a very difficult neck of the woods, and we encourage Israel to pursue high standards and the democratic process."
As reported by Ynetnews