Habbaniyah, Iraq – Five-year-old Tabarak had to be given sleeping pills to hush her crying as her family fled from ISIS.
For months, her mother Nada Saleh had used the tablets as her only way of getting rest amid incessant air strikes and battles between ISIS forces in her hometown of Ramadi and those that would want to liberate the Iraqi city.
But when the time came to run, Saleh decided to feed them to her children, including her young daughter, to calm their panic and stop their anguished cries alerting the militants.
"I had some sleeping pills remaining that I gave to them so they wouldn't cry and give our hiding place away," she says.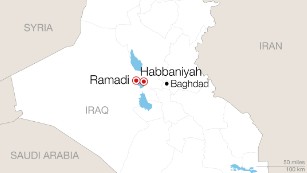 Saleh and her husband had spent months trying to survive under ISIS' radar, but the family decided it was time to get out when sword-wielding men came calling, and set fire to their home
"As they burnt my house, they pulled us out and threatened my husband with a sword to his neck," she told CNN.
Saleh feared that she, her husband and six children would be used as human shields in the face of Iraqi forces' assault on the city.
"They wanted [my husband] to move us to the Suffiya district where they've pushed other families.
"ISIS are hiding behind the families there, using them to hide from the Iraqi forces. If it wasn't for my husband, we would still be in there, that could be us."