Washington – The growing rupture between Saudi Arabia and Iran is threatening U.S. efforts to end the Syrian civil war and stop ISIS in the Middle East.
The animosity between the long-wary Sunni and Shiite powers diminishes the chances that they will work together to end the Syrian violence in which ISIS has thrived and increases the likelihood of more regional instability, several former U.S. officials told CNN Monday.
While Saudi Arabia and Iran have been involved in proxy wars throughout the Middle East for years, Riyadh's execution of a prominent Shiite cleric and Iranian recriminations have brought tensions to a new low.
Iranian protesters stormed the Saudi embassy in Tehran after the execution Saturday of Sheik Nimr Baqr al-Nimr, a prominent critic of the Saudi government.
Riyadh responded by severing relations with Iran, including flights to and from the country, and several other Sunni-led nations followed suit.
It was just weeks ago, after months of prodding, that the U.S. was able to get foreign ministers from Saudi Arabia and Iran to sit at the same table with the United States and other countries trying to discuss a road map to end the bloody Syrian civil war.
Iran has been a long-time supporter of Syrian President Bashar Al-Assad, while Saudi Arabia has provided the rebel factions fighting Assad with financial assistance and weapons.
"The two key countries that had to make compromises at that negotiating table were Saudi Arabia and Iran," Nicholas Burns, a former senior official at the State Department, told CNN. "It's just become more difficult."
On Monday, Secretary of State John Kerry reached out to both the Saudi and Iranian foreign ministers to calm tensions, fearing the clash between the two power brokers could see U.S. efforts to bring peace to Syria crumble.
And the U.S. called repeatedly for calm in public statements.
"We are urging all sides to show some restraint and to not further inflame tensions that are on quite vivid display in the region," White House Press Secretary Josh Earnest said Monday in a briefing with reporters.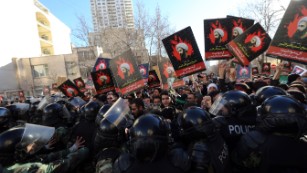 State Department spokesman John Kirby, meanwhile, urged engagement to reach "a resolution to these things peacefully, diplomatically and without violence."
But a former U.S. diplomat said that that goal might well be elusive, and that it wasn't just in Syria that the situation might deteriorate.
"This could turn out to be something that further inflames the region," according to Robert Jordan, a former U.S. ambassador to Saudi Arabia.
With Iran and Saudi Arabia on opposite sides of the conflicts in Iraq, Yemen, Lebanon and elsewhere — as well as Syria — there are plentiful opportunities for additional confrontation.
Any direct collision could jeopardize the American-led deal curbing Tehran's nuclear capabilities if the U.S. and the West are being seen as siding with Saudi Arabia, a close Washington ally.
And then there is the ongoing U.S.-led military effort against ISIS inside Iraq and Syria, which likely requires involvement from both Iran and Saudi Arabia to hasten the defeat of the terrorist group — now, the two sides will not want to cooperate.
"It may well create further vacuums," Jordan said of the current situation between the two countries. "It may well create greater difficulty in finding any kind of moderate forces to train and assist in the process of fighting ISIS both in Syria and Iraq. I think we have a real risk here that it could destabilize efforts in that regard."
And that destabilization could extend far beyond Syria and Iraq.
"If they're not talking, if they're fighting through proxies in places like Syria and Yemen — and they are — it means over the next several months we should expect to see more violence, more dead, more refugees coming from Syria," Burns said.
For now, the U.S. is signaling that it expects the countries on the front lines to take the lead in reaching a resolution.
"While we certainly want to foster that engagement, I think you can all understand that real, long-term sustainable answers are not going to be legislated from Washington," Kirby said.
As reported by CNN