Chinese national sets out from Greece and is blown off course by the strong winds, finding himself on a beach in Israel without knowing how he got there.
Fishermen from the town of Jisr az-Zarqa were stunned to learn that the Chinese man they found lying unconscious by a boat at the harbor had set sail from Greece and arrived on the Israeli shore quite by accident.
The fishermen took care of the man, giving him food and drink. When he recovered, they asked him how he came to be on the beach. "I'm a Chinese citizen and I just found myself here," he answered in English.
They had a hard time communicating with the man and called the police, who took the unexpected tourist in for questioning.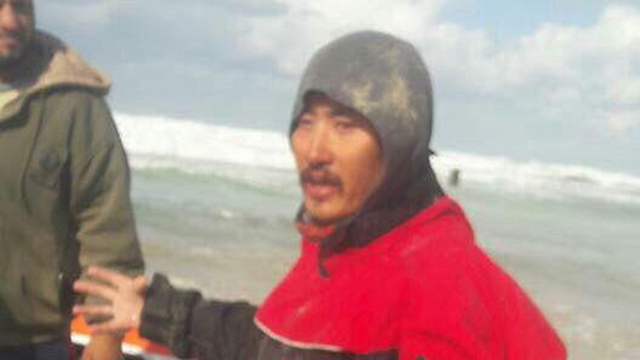 The man told the police he set sail from Greece and apparently was blown off course by strong winds and carried to Israel.
The Administration of Border Crossings, Population and Immigration has taken over the handling of the case.
One of the fishermen said that "this is the first time we encounter a case like this. We didn't expect someone to get to us through the sea because of Israel's increased security. Usually, it's hard to believe that anyone who illegally crosses the border gets to live. This Chinese man is lucky. We're happy he's fit and healthy and hope he returns to his family soon."
Sami Ali, a member of the local council, said that "we were surprised to find a foreign national on the beach, a man with an east-Asian appearance, who was lying near his boat passed out."
Ali went on to say that "I approached the boat and saw it is damaged. The sail was broken and the hull also suffered damages. Inside the boat was a large quantity of food and water."
As reported by Ynetnews