Sheikh Nimr al-Nimr was not among the "A-list" of Shia clerics in Saudi Arabia. But his execution has provoked a regional crisis, sparking condemnation from Iraq, Iran and even senior U.N. officials; violence against Saudi diplomatic premises in Iran; and a sudden rupture in relations between the Kingdom and the Islamic Republic.
Nimr's execution is also symbolic of a relatively new "hard-line" Saudi approach to dissent at home and Iran's influence in the region. Several analysts believe it will deepen an already dangerous divide between Sunni and Shia across the region.
Al-Nimr, 56, was a firebrand cleric who had spent a decade studying religion in Iran and had been arrested several times by Saudi authorities. He had often called for the secession of Saudi Arabia's oil-rich Eastern Province, where the majority of the Kingdom's Shia live, describing the Sunnis living there as foreigners.
"Our dignity is more precious than the unity of this land," he said in a 2009 sermon. And a U.S. diplomat who met him the previous year said he had insisted the Saudi Shia were "entitled to help from a foreign power should they become involved in a conflict." That foreign power was obviously Iran.
The Shia make up some 2 million of 18 million Saudis,and have long complained of discrimination at many levels.
Nimr also called for the downfall of the Saudi royal family, though he urged his followers not to "return bullets with bullets" but to use demonstrations and civil disobedience.
A U.S. diplomatic cable from 2008 predicted he would "continue forcefully calling for reform and creating unrest … fitting with his vision of instability as being the only catalyst for real change" in Saudi Arabia.
U.S. cables: A cleric of limited influence
However, several U.S. cables between 2008 and 2012 released by WikiLeaks described Nimr's influence among the Saudi Shia as limited.
Aimen Dean, a Saudi analyst who now runs a political consultancy based in Dubai, says Nimr was never a "top-tier" Shia cleric. His sermons were in colloquial rather than classical Arabic and his support base was largely among alienated youth in Al Awamiyah, a village in the Eastern Province surrounded by date farms and notorious for its militancy. A U.S. diplomatic cable in 2008 described it as "the roughest and most violence-prone village of the Qatif-area."
Senior Shia figures in Saudi Arabia such as Sheikh Hassan al-Saffar kept their distance from the maverick Nimr. But he gained support among militant Shia factions in Iraq and some clerics in Iran, which was surely of concern to Saudi authorities.
After several previous arrests, Nimr was last detained in July 2012 in disputed circumstances. Saudi authorities said he and his entourage had resisted arrest "and initiated shooting and crashed into one of the security patrols while trying to escape."
Police fired back and he was wounded in his thigh. His family disputed the official version of events, and two people died in subsequent protests.
At the time, he was wanted for sedition. He was later charged with inciting sectarian strife and terrorist offenses and "insulting the leaders of the Gulf states." After a trial criticized by human rights groups, the prosecutor demanded — and in October 2014 fatefully won — the death penalty.
Execution takes some by surprise
Even so, Toby Matthiesen, senior research fellow in the International Relations of the Middle East at Oxford University, says he is surprised the Saudis went ahead with the execution.
"I assumed they would keep him and the other Shia political prisoners as bargaining chips," Matthiesen told CNN, as "several regional and international actors and countries lobbied for the release or pardoning of al-Nimr."
Matthiesen also finds the timing strange. "The [Shia] protest movement in the Eastern Province has stopped;" there was no need to make an example of Nimr.
Dean, however, says that executing Nimr was "the least bad option for the Saudi government. If they'd given him a prison sentence, he would have been a hero to his Shia followers because the Saudis would have appeared as afraid of Iran and of the Shia. And Saudi Sunnis would have been very angry."
The death sentence drove the Saudi government into a corner, Dean says.
Matthiesen agrees that Nimr may have been executed "as a way of shoring up support amongst [Saudi] Sunnis, and particularly among the large segment of Saudis that feel sympathetic to ISIS or to a general anti-Shia and anti-Iranian policy."
So the authorities added "a few Shia among the Sunni militants that were executed as if to say that 'we are even-handed, we execute both Sunni and Shia,' " Matthiesen said.
Where will sectarian tensions go from here?
The question now is whether al Nimr's execution will inflame existing sectarian tensions. Late Sunday, Saudi Arabia cut diplomatic ties with Iran, and Matthiesen believes that the sheikh's influence after death may be much greater than it was when he was alive.
"Nimr has become a household name amongst Shia Muslims around the world, including also in Iraq, where this will also be used by Shia actors as a way to rally support and denounce Saudi Arabia," Matthiesen says. His execution "will complicate a whole range of issues, from the Syrian crisis to Yemen."
Iran's Supreme Leader Ayatollah Ali Khamenei has already warned that "divine revenge will seize Saudi politicians."
Saudi Arabia and Iran back opposing parties and groups in Syria and Iraq and are on opposite sides of the devastating conflict in Yemen.
Saudi forces launched military action in Yemen in March against the Houthis, a Shia minority that had seized much of the country. The Saudis and other Sunni states said the Houthis were being armed and financed by Iran. Iran has denied arming the Houthis.
End to ceasefire in Yemen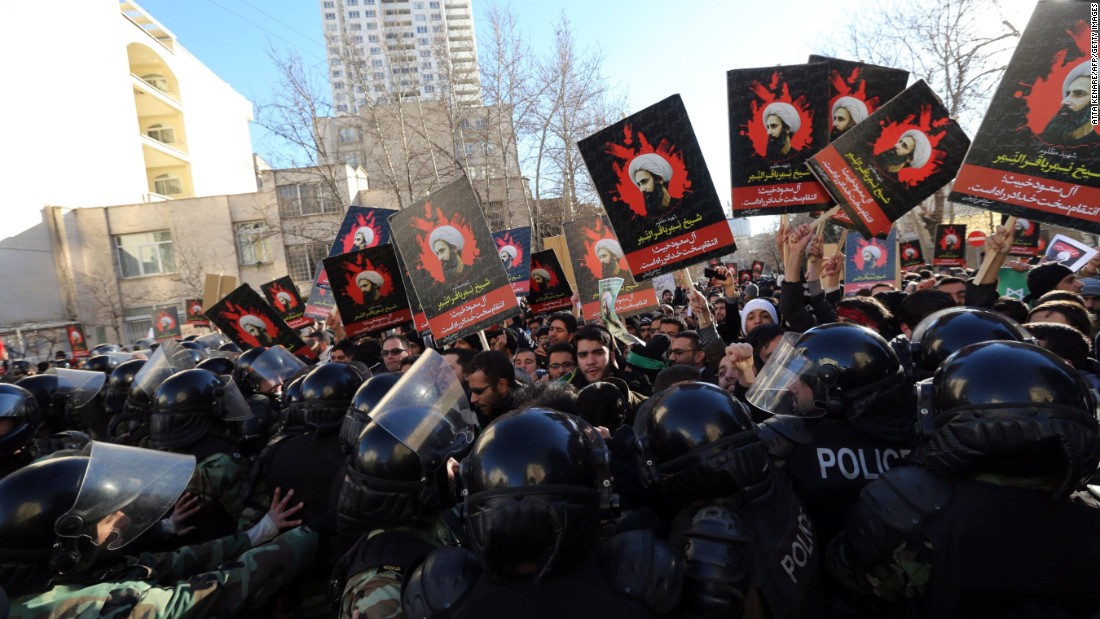 On the very same day that Nimr was executed, Saudi Arabia announced a unilateral end to the ceasefire that had been in effect (though violated) in Yemen since December 15. A Saudi statement claimed that Houthi forces and their allies had fired ballistic missiles at Saudi Arabia and targeted its border posts during the truce.
Dean also believes the regional implications are bleak — not least because King Salman, his son Mohammed (defense minister) and Interior Minister Mohammed bin Nayef are determined to reverse what they see as a decade of gains by Iran across the region. In January last year, when Salman became King, Dean predicted that "Saudi Arabia is likely to take a firmer, more combative position towards Iran and Iranian proxies in the region."
Analysts will be watching the Eastern Province closely for the Shia response.
So far, there have been more calls for restraint than protest, including from Nimr's brother. In addition, says Matthiesen, "about 20 younger Shia are still on death row in Saudi, and I would assume that Shia leaders would rather have them released than start a massive protest campaign now." Among them is Nimr's son.
Dean cites Shia contacts inside the Kingdom as saying that most of the community are wary of protesting — apprehensive that authorities would react quickly and with force and that bloodshed would follow.
But al Nimr's young, militant support base may see no reason for restraint, Matthiesen believes.
"Overall, I was taken by surprise, and I think this will be very bad for sectarian relations in Saudi," he says.
As reported by CNN