The flag was found in the balcony of a northern Tel Aviv apartment belonging to a family that has been staying abroad lately. Police are investigating.
The Tel Aviv District Police has opened an investigation in order to find out the circumstances by which a flag identifying with the Islamic State (ISIS/ISIL) terrorist organization was found in a penthouse on Recanati Street in northern Tel Aviv. Another Islamic flag was found as well.
Neighbors called police to the building and filed a complaint. A maintenance person who was working on the building's heating system saw the flags when he went up to its roof.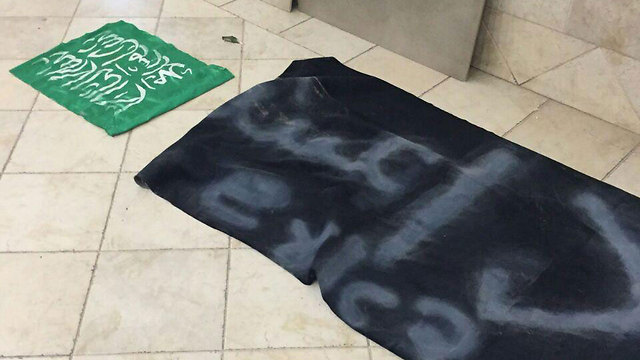 According to a local maintenance man, the building is going through renovations, and scaffolding is being used. That scaffolding apparently enables people to reach a private rooftop balcony, belonging to tenants who have been staying abroad lately. One of the neighbors contacted the maintenance man, and he opened the door for the police.
The atmosphere in the Tel Aviv area following the Fridayshooting attack has been tense. Police continue to search for the man suspected of perpetrating the attack, 29 year-old Nashat Melhem from Ar'ara. Many Tel Aviv parents did not send their children to school on the Sunday after the attacks (Sunday is the first school day of the week in Israel), with only 50 percent attendance in north Tel Aviv schools, 70 percent in the center, and 90 percent in south Tel Aviv.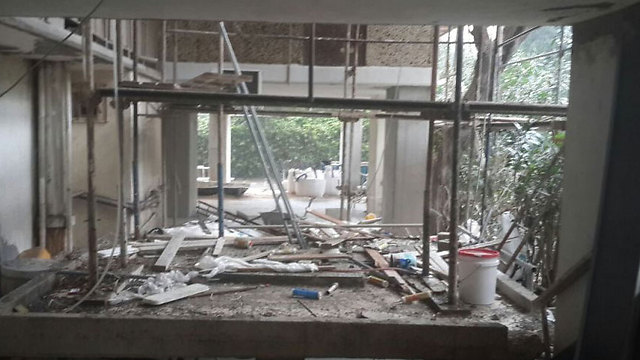 The attack occurred on Friday, at about 3pm. The suspect came to Dizengoff Street, and was filmed preparing for the attack by the security cameras at an organic food store. He then proceeded to exit the store, take out a machine gun, and fire into the nearby Simta pub. After discharging several dozen rounds, he ran away. Alon Bakal, 26, and Shimon Ruimi, 30, were murdered in the attack. About an hour later, the body of Ayman Shaaban, a 42-year-old cab driver, was found in north Tel Aviv. Both cases are under a gag order.
A short time after the attacks were reported in the press, the suspect's father identified him in security camera footage, which was broadcast on Israeli television. He then reported it to the police. Ever since, security forces have been conducting a manhunt for Melhem.
As reported by Ynetnews