Dr. Omer Salem, an Egyptian researcher of religions, came to speak in front of psychology students about coexistence. Two Arab students verbally attacked the lecturer: 'go talk to the Dawabsheh family about coexistence'.
World-renowned Egyptian religion researcher Dr. Omer Salem of Yale University was interrupted during a lecture to psychology students at Haifa University earlier this week by two Israeli Arab students accusing him of "collaborating with Zionists."
Dr. Salem also runs an international peace organization, an interfaith initiative started by Muslims, Jews, and Christian in Palo Alto, California. It focuses on improving relations between religious groups in the Middle East generally, and in Israel specifically.
Salem came to talk to students about the relationship between Arabs and Jews, as well as what the Koran has to say about this relationship. Two Arab students from the Arab party Balad's university group did not like what he had to say. "The blood of martyrs is spilled and in the end you get a middle finger," one student shouted while gesturing with his finger at Salem.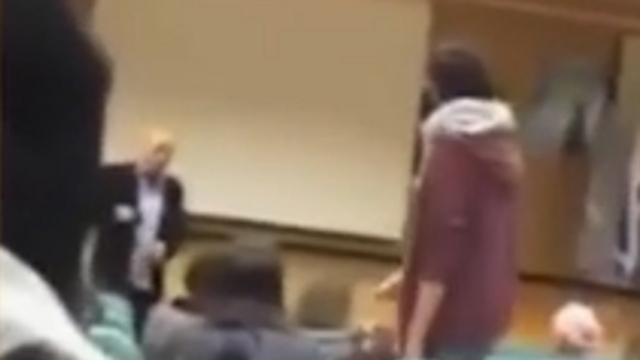 The second student, who filmed the incident shouted at the lecturer: "Go talk to the Dawabsheh family about coexistence," referring to the killing of three members of a Palestinian family in the West Bank village of Duma attributed to Jewish terrorists. He continued: "They should stop the colonization in Palestine, they are silencing us."
One of the students pointed to the lecturer who brought Salem to the university and said: "This is my lecturer, look how far we've come, this is my lecturer. They came to silence us, the Zionists who are protecting you. You should be ashamed of yourself, the Zionists are protecting you. You came here to support colonization. You are dancing on the blood of martyrs."
Another student yelled at the lecturer: "Why do you come here? You have no respect. Go fix the situation in Egypt". At one point, someone is heard saying that the meeting will be stopped for a few minutes, apparently to defuse the situation. Immediately after the embarrassing , the lecturer who invited Salem approached the disciplinary committee and filed a complaint against the two students.
Kobi Rabinovitch, chairman of the student union at the University of Haifa, referring to the case, said that "these two students are in the psychology department. Their political views are very well known to us and they belong to Balad. The lecturer came to talk about a new book he wrote about peace and coexistence. It is important for me to note that these students do not represent the fabric of the university. This is something unusual in our institution. We are constantly working for coexistence, and we certainly do not encourage such behavior. We turned to the university and asked them to take care of this issue in an urgent and disciplinary manner."
The University of Haifa commented that the "university deems this matter to be very serious and the students will be sent to a disciplinary hearing. We will not tolerate such behavior which affects the normal process of study and research."
As reported by Ynetnews