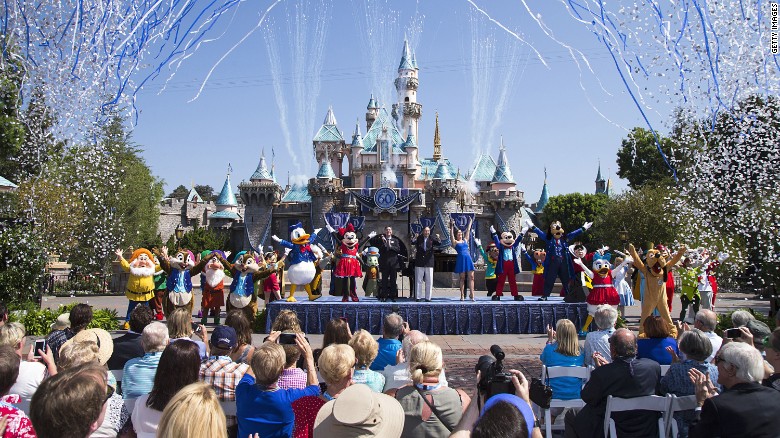 A Muslim man in London says his family was barred because of their religion from boarding a plane bound for Los Angeles, where they planned to visit Disneyland with their children.
On December 15, the extended family waited at the gate. Their bags were on the plane. The family included Mohammad Tariq Mahmood with two of his children; his brother Zahid and sister-in-law Sadaf, with five of their children; and two nieces who were accompanying them.
While they waited to board the plane, Mohammad Mahmood was called on the intercom and told that at least some of the family would not be allowed to board. They were not given a reason for the ban, according to Mahmood. Their bags were removed from the plane, and they were ordered to return all the duty-free goods they had purchased, and then escorted from the airport.
A U.S. official on Wednesday told CNN that not all family members were prevented from traveling, but did not specify who would have been permitted to travel.
A British MP alerted the media to the story Wednesday after speaking with Mahmood.
Mahmood told CNN Wednesday that the kids were devastated. "They had big tears in their eyes," he said.
He also said he still hopes to bring the family to Disneyland some day. "I haven't unpacked yet, because they still think they're going to go."
Asked about the incident on Wednesday, U.S. Customs and Border Protection spokesman Jim Burns told CNN that religion is never a factor in admissibility of travelers to the United States. "The religion, faith, or spiritual beliefs of an international traveler are not determining factors about his/her admissibility into the U.S.," he said in a statement emailed to CNN, but added that under U.S. immigration law, "applicants for admission bear the burden of proof to establish that they are clearly eligible to enter the United States."
British officials familiar with the incident said U.S. Border Control at Gatwick stopped the family. They were told that after contact was received from Washington, the families would not be allowed to board.
Speaking to CNN's Richard Quest later, three senior U.S. officials stressed the decision not to allow the family to board was not related to religion.
The officials said they are concerned at the way the denied boarding is being portrayed as an anti-Muslim move, and they denied that religion played any part in the decision.
A check by CNN on Wednesday of traveling family members on the UK Electoral Roll showed an email address associated with 18-year-old Hamza Mahmood that links to a suspicious Facebook page.
The page appears to belong to a Birmingham resident with a similar name, whose occupation is listed as Supervisor at Taliban and Leader at al-Qaeda.
When asked by reporters about the Facebook link, the family said the email listed on the electoral roll is incorrect, missing some characters, and that the son lives in London, not Birmingham.
Mohammad Mahmood confirmed his son Hamza was part of the trip, and he told CNN the family had no knowledge of the Facebook page until asked about it by a reporter.
Stella Creasy, a member of the British Parliament, wants answers from the United States on why the family was stopped from boarding, because she wants to be sure discrimination was not at play.
Creasy is also concerned about possible undue financial hardship on the family because of the incident. Mahmood said Norwegian Airlines has told the family that they are not entitled to a refund.
"They are £9,000 ($13,384 dollars) out of the pocket for the tickets they bought and what I'm trying to do as their MP is get more information. I have to also say, this is not the only case that I have had raised with me of someone traveling to America being stopped at the last minute," Creasy told CNN.
She penned an editorial in The Guardian newspaper, and says she's written Prime Minister David Cameron as well.
"Disney may be a fantasy world, but without greater scrutiny of such policies, seeking to travel could become a nightmare for too many of our citizens and that should worry us all," Creasy wrote.
Norwegian Airlines released this short statement: "We can confirm that a group of passengers were denied the right to board a flight from London Gatwick to Los Angeles on Tuesday 15 December at the request of the U.S. Department of Homeland Security. Norwegian fully complies with requests from the border controls of each country we serve."
The incident comes on the heels of high-profile and deadly terrorist attacks committed by radical Muslims, including those in Paris, in which 130 people died, and in San Bernadino, California, in which 14 people were killed.
On Wednesday Mahmood also told CNN, "We've been Trumped," referring to U.S. Republican presidential candidate Donald Trump.
There was no allegation Trump played a direct role in their case, but rather an implication that the atmosphere to which Trump has contributed, with his proposal to ban Muslims from entering the country, played a role in their exclusion, solely, Mahmood said, on the grounds of religion.
On Wednesday, the Council on American-Islamic Relations asked the Office for Civil Rights and Civil Liberties at the U.S. Department of Homeland Security to investigate whether Trump's call is being "implemented informally."
Trump's proposal was poorly received in Britain. More than 300,000 people signed a petition to ban Trump from the United Kingdom and Cameron called Trump's comments "divisive, unhelpful and quite simply wrong."
As reported by CNN