Ron Dermer counters BDS by sending items made in West Bank as embassy's annual holiday gift.
Israel's ambassador to the United States used the embassy's annual holiday gift to make a political point this year, sending items made in the West Bank and Golan Heights to counter a divestiture movement aimed at Israel.
"This holiday season, I decided to send a gift that would also help combat the latest effort by Israel's enemies to destroy the one and only Jewish state," Ambassador Ron Dermer wrote in a letter to gift recipients.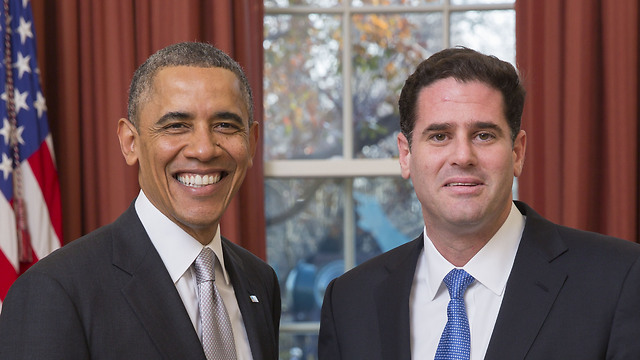 Dermer was referring to the Boycott, Divestment and Sanctions (BDS) movement, sponsored by pro-Palestinian intellectuals and bloggers, which campaigns for a boycott of all Israeli goods and questions Israel's legitimacy.
Dermer said in the letter, which he posted on Twitter on Monday, that the group was supported by "fanatics and fools" who are "promoting a new anti-Semitism." The movement is a frequent target of Prime Minister Benjamin Netanyahu.
An accompanying photograph showed packages in blue, silver and white wrapping with a seal of the Embassy of Israel, Washington, DC.
Dermer complained that Israel was being unfairly held to a different standard than other countries and cited a recent European Union decision to label products made in Judea and Samaria, the Hebrew names for the West Bank, differently than those made in Israel.
Under EU guidelines issued in November, products made in settlements on Israeli occupied lands must be labeled as such, rather than carry a "Made in Israel" label. The EU considers settlements illegal under international law.
"Of the over 200 unresolved territorial disputes around the world, Europe decided that only these Jewish-made products deserved to be labeled," he wrote.
He said Israel alone among its Middle East neighbors upholds high democratic standards in its treatment of women, gays and Christians.
"In response to this effort to cast a beacon of freedom, tolerance and decency as a pariah state, I have decided this holiday season to send you products that were made in Judea, Samaria and the Golan Heights," Dermer wrote.
As reported by Ynetnews