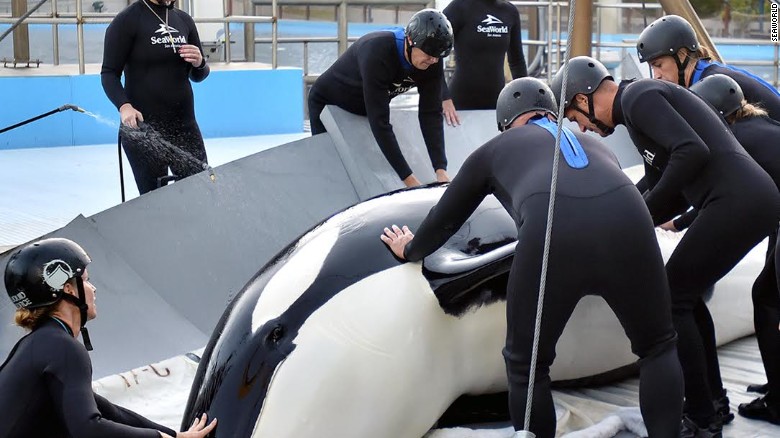 An 18-year-old killer whale has died after a months-long illness at the SeaWorld park in San Antonio.
Unna, a 4,600-pound orca, died Monday.
"We are saddened to share the passing of Unna," SeaWorld said. "Unna had been under the constant care of the SeaWorld veterinary team and outside experts for the past several months."
She suffered from a resistant strain of a fungus called Candida.
A necropsy will be performed to determine the cause of her death.
SeaWorld said it canceled all killer whale shows at the San Antonio park for the day.
A sea of troubles
SeaWorld's reputation was badly damaged in part by "Blackfish," a 2013 documentary co-produced by CNNFilms.
"Blackfish" begins by showing the unseemly practice of capturing orca babies in the 1970s and casts SeaWorld in a harsh light for raising the whales in dark and cramped conditions.
The film blames SeaWorld for causing one killer whale, Tilikum, to become a psychotic killer. Tilikum has sired 21 calves, but killed three people, including the SeaWorld trainer Dawn Brancheau.
The film generated criticism from lawmakers and advocacy groups like PETA.
Attendance at SeaWorld's theme parks has waned, and its San Diego park has been particularly troublesome. There is also a park in Orlando.
An earnings update last month left investors worried about the company's outlook.
SeaWorld said the attendance dip was due to "brand challenges and is being addressed through the company's reputation campaign, which is designed to share facts and correct misinformation."
To help its boost the company's image, SeaWorld CEO Joel Manby said the company will "aggressively communicate" its animal care and rescue efforts.
SeaWorld is also planning new attractions and changes to its pricing.
As reported by CNN