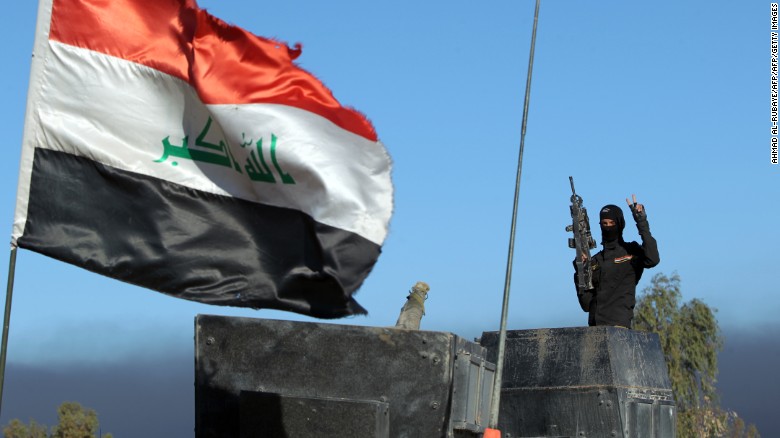 Iraqi forces sneaked across an improvised bridge Tuesday and attacked ISIS in the key city of Ramadi, the Iraqi military said, aiming to recapture the provincial capital whose fall to ISIS months ago drew U.S. criticism about Baghdad's ability to fight the terror group.
The forces, including the Iraqi military and Shiite paramilitary fighters, crossed a Euphrates River offshoot to strike ISIS in a southeastern district of Ramadi on Tuesday morning in an attempt to retake the city center, the military said. The operation could take a few days, it said.
The move is the latest in a weeks-long effort by Iraqi forces to take back Ramadi, a city of strategic and symbolic importance 110 kilometers (about 70 miles) west of Baghdad, Iraq's heavily fortified capital.
CNN does not have a presence in Ramadi and cannot confirm troop movements there.
The U.S.-led anti-ISIS coalition, which has conducted airstrikes against the terror group in Iraq since last year, supplied the temporary bridge to the Iraqis and has provided air support for the Ramadi assault, U.S. Col. Steve Warren said.
"We are encouraged by this tactical development, which is a continuation of the progress we've seen over the last several weeks," said Warren, a spokesman for the coalition.
Warren said the Iraqi forces still had a long way to go before they are able to liberate Ramadi from ISIS, the Sunni Muslim terror organization that captured parts of Iraq and Syria for what it calls its Islamic caliphate.
"There is a lot of dense terrain here that needs to be negotiated," he said.
ISIS took over Ramadi — the capital of Anbar province — in May after a year of fighting there, spurring tens of thousands of civilians to flee.
Ramadi has strategic importance, with Anbar being the heartland of Iraq's Sunni Muslim population, and because of its proximity to Baghdad.
It also has symbolic significance. After Iraqi forces pulled out of the city in May, U.S. Defense Secretary Ashton Carter questioned whether the Iraqis had the "will to fight."
Iraqi officials, including Prime Minister Haider al-Abadi, later said Carter had bad information. But Salim al-Jabouri, speaker of the Iraqi parliament and arguably the country's most powerful Sunni politician, said that even the Prime Minister didn't know of the withdrawal until after it happened.
The city was one of "three R's" identified as the core of a triple-pronged U.S. strategy against ISIS that Carter floated before U.S. lawmakers in October. The others were raids by special forces, and Raqqa, the extremists' de-facto capital in Syria.
Push from the southeast
Iraqi security forces said they'd already controlled part of Ramadi before the latest move.
On Tuesday, Iraqi forces used the temporary bridge to reach the southeastern Ramadi district of Humayrah, and from there pushed north into the neighboring district of al-Thubat, where clashes were underway, the Iraqi military said.
At least 20 ISIS militants were killed and dozens of ISIS vehicles were destroyed Tuesday, military officials said. They did not say anything about casualties to Iraqi security forces.
The operation may be slowed out of concern for civilians as ISIS was using residents as human shields Tuesday, two officials with the country's Defense Ministry said without elaborating. Iraqi air forces began dropping leaflets in Ramadi last month, urging people to leave the city ahead of the military's advance.
Ramadi residents told CNN earlier this month that leaving the city wasn't easy, because ISIS had set up checkpoints to prevent people from escaping.
"Daesh made it very clear to all of us that anyone who tries to flee the city will be considered an apostate. And you know what they will do to an apostate," said one resident, using an alternate name for ISIS and referring to the group's practice of detaining and killing those who don't accept its ideology.
More than 250,000 civilians are believed to have fled Ramadi since April, the U.N.'s refugee agency said in October.
As reported by CNN