Op-ed: The organization of IDF soldiers and veterans isn't publishing anonymous testimonies about individual cases, but a false testimony about an unbalanced army, an unbalanced state and good people who have turned into monsters.
I have been dealing with the Breaking the Silence organization for nearly 10 years now. It's not an obsession, but a personal insult.
When it was founded by former Nahal soldiers who had served in Hebron, I faced a personal dilemma. "Our good guys" were allegedly seeking to improve our moral foundation, and I was in favor of that. When they explained they were in favor of battle morals, I nodded in agreement. And when they spoke about improving the face of Israeli society, I understood them and found many points of similarity although we voted differently in the elections.
And then everything turned upside down. From an Israeli organization, Breaking the Silence turned into an organization operating against the Israel I believe in. It began with anonymous testimonies published abroad without providing a name, an address and a response from the IDF. Then came photo exhibitions and weird partnerships with obviously anti-Israel organizations, and finally superficial interviews around the world about war crimes committed by the IDF as a matter of routine.
Not everything they said was a lie and not every event is fabricated. There are unusual events in the IDF and operational errors which claim the lives of innocent people. That's the way it is in an ongoing war against terror. The problem was in the picture they have painted for themselves and to the world.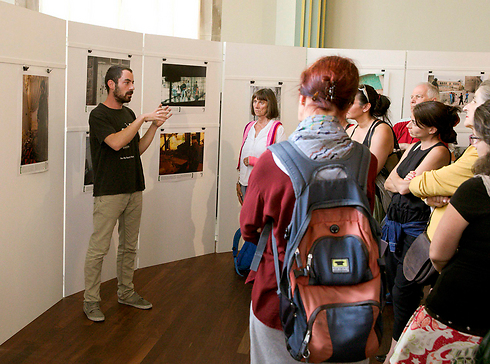 When Avner Gvaryahu, one of the senior members of Breaking the Silence, stands in front of a United Nations subcommittee and talks about seeing the IDF routinely kill innocent civilians with his own eyes and seeing IDF soldiers steal, I am personally offended. It's not just Gvaryahu's testimony about himself, but his testimony about me too. About six years of my life in compulsory service, and many more years since then in reserve service.
This is his testimony about the alleged way in which all soldiers in the IDF are educated. This is the alleged reality in which there are no battle morals, no moral values and illegal orders in the Israeli army. These are allegedly the battalion, regiment and brigade commanders, who according to the picture painted by Breaking the Silence, are all nationalistic, fascist and detached from the values I am familiar with.
And from personal testimony, this is the most distorted picture one could imagine. Not because of the long discussions during every Gaza operation about the collateral damage caused by a bomb, not because of decisions that are made repeatedly in order to prevent the killing of innocent people and the huge efforts invested in order to separate the uninvolved, and not even because the humanitarian aid offered to the Palestinians again and again. But because of the people – the Israelis, the soldiers – the human beings described in the picture created by the Breaking the Silence activists.
Democracy is built on checks and balances: Freedom of the individual versus security-related needs, human rights versus a state's right to defend itself, healthy nationalism versus democracy. Unlike unbalanced people, unbalanced states fail to survive. Something bad happens to them. Breaking the Silence isn't publishing anonymous testimonies about individual cases, but a false testimony about an unbalanced army, an unbalanced state, good people who have turned into monsters.
This picture does not include the Supreme Court or Military Advocate General. It does not include my friend Avihu Yaakov, who was killed because he physically approached the door of an explosive lab in Nablus instead of blowing it up from the outside, as there were civilians on the top floors. It does not include the dozens of cancelled operations I have witnessed with my own eyes because there were children near the target. It only includes an unbalanced state.
And as for President Reuven Rivlin's participation in the Haaretz conference also attended by Breaking the Silence members, the attacks on him are unbalanced as well: Like the president, I am also against any kind of boycott. I have met Saeb Erekat as the prime minister's emissary, and he is one of the greatest degraders of Israel. I have met anti-Israeli Palestinians for public debates and I have also met members of Breaking the Silence. I don't boycott. I wage an all-out ideological war.
The Breaking the Silence people have no problem operating freely in the Israel, although they are lying. But they should have a problem getting state subsidization and meeting with IDF soldiers and high school students.
As opposed to what they claim, Israel is a balanced state: Any voice can be expressed in it, no matter how vitriolic, but there is no reason for us not to fight it. As opposed to claims from the left, this does not harm democracy. This is the exact proof of democracy's strength.
As reported by Ynetnews