American president says US and its allies are hitting ISIS harder than ever, killing five senior leaders since the spring.
WASHINGTON – US President Barack Obama said Monday evening that Washington and its allies are hitting the Islamic State group harder than ever and that the organization has already lost 40 percent of the land it controlled in Iraq.
Obama said airstrikes had increased and the coalition had successfully knocked out key figures in the group's leadership "one by one," adding that the United States was sending a message to the leaders of ISIS, who are next in line.
The US president stressed that since the summer, Islamic State has not registered even a single successful military operation on the battlefield – neither in Syria nor in Iraq. However, he emphasized that the war against ISIS in both countries continues to be a tough fight.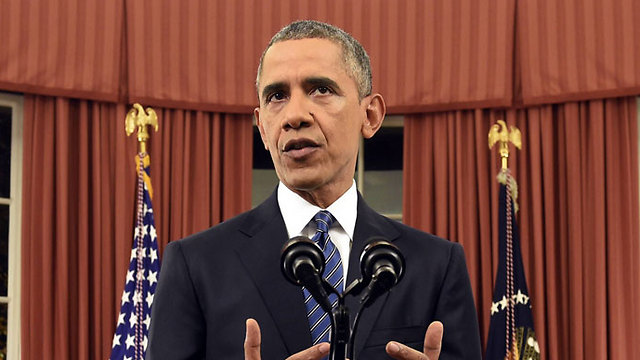 During an appearance before the Pentagon on Monday, Obama said that since spring, five senior ISIS leaders have been killed.
He said that the attacks Islamic State intensified even before the terrorist attacks in Paris, for which ISIS claimed responsibility, and the attack in California that killed 14 people, which was carried out by two ISIS supporters.
"ISIL is dug in, including in urban areas, and they hide behind civilians, using defenseless men, women and children as human shields. So even as we're relentless, we have to be smart, targeting ISIL surgically with precision," Obama said, using another acronym for the Islamic State.
"At the same time, our partners on the ground are rooting ISIL out town by town, neighborhood by neighborhood, block by block. That is what this campaign is doing," Obama stressed.
The high-profile visits to agencies charged with keeping the US safe follow a televised address December 6 that aimed to reassure the public but that critics said failed to do the job.
"The American people are smart enough to know when something is working or not, and it's obvious that the president's current strategy isn't working," Republican House Majority Leader Kevin McCarthy said in a statement released Monday. "Far from being contained – much less defeated – ISIS has now extended the reach of its terror farther than ever before."
Obama is also hoping to draw a contrast with Donald Trump and his inflammatory remarks about Muslims, which the American administration has said endangers US national security.
"Terrorists like ISIL are trying to divide us along lines of religion and background," Obama said in his weekly address. "That's how they stoke fear. That's how they recruit."
This week, he said, "we'll move forward on all fronts."
As reported by Ynetnews