Following vehicular attack that left 11 wounded, concrete barriers to be placed in front of 300 bus stations in the capital, after the measure proved effective in the West Bank.
Prime Minister Benjamin Netanyahu on Monday decided to fortify 300 bus stations in Jerusalem after a terrorist from East Jerusalem rammed his car into people waiting at a bus stop at the western entrance to the capital, wounding 11 people.
The prime minister held a consultation with Transportation Minister Yisrael Katz, Public Security Minister Gilad Erdan, and Jerusalem Mayor Nir Barkat in the wake of the attack, in which he instructed them to place concrete barriers in front of hundreds of Jerusalem bus stations.
This is not the first time concrete barriers are placed in front of public transportation stations. Amid a wave of vehicular attacks in late 2014, such barriers were placed in front of bus stops and light rail stations in Jerusalem, and bus stops and hitchhiking stations in the West Bank have also been fortified with such measures, which proved to be efficient in stopping attacks.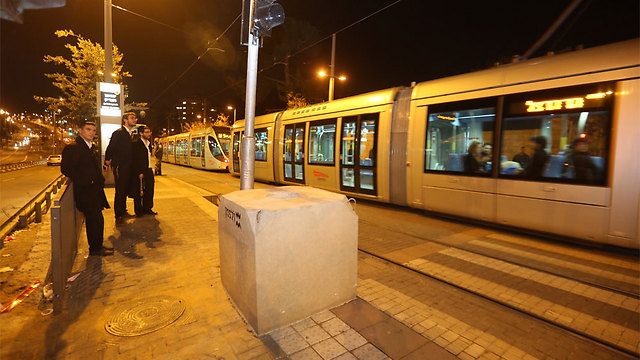 Netanyahu, describing the wave of attacks as "a new type of terror by individuals which challenges us and other countries," praised the quick response of people at the scene whose actions "prevented far more serious tragedies."
"We are acting constantly to fight this terror and I have no doubt that eventually we will overcome it," Netanyahu told a Likud party meeting moments after the attack.
The vehicular attack in Jerusalem happened shortly before 3pm on Monday. The attacker, 21-year-old Abdel Muhsan Hasuna from the neighborhood of Beit Hanina in East Jerusalem, arrived in a private vehicle to Herzl Boulevard and proceeded to drive into a bus stop, driving onto the sidewalk and hitting several people, as well as a fire hydrant.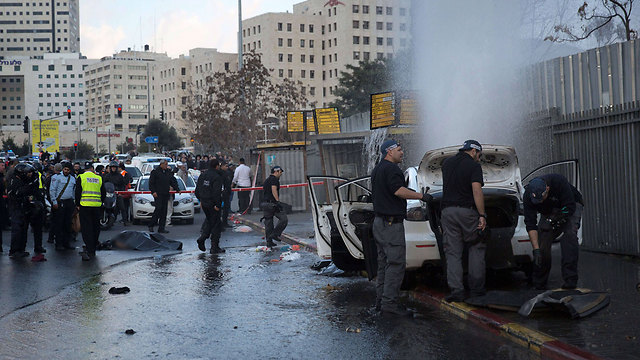 A civilian security guard and a member of Israel's security forces saw what was happening and shot the attacker before he could get out of his car. An ax was found in the vehicle.
A year-and-a-half old baby was moderately wounded, and his condition later deteriorated. Doctors at the Hadassah Medical Center in Jerusalem's Ein Karem were fighting to save the baby's leg. Two others were moderately wounded, while eight were lightly hurt. Three additional people were treated for shock.
Palestinian President Mahmoud Abbas referred to the recent period as "a justified popular uprising."
"We cannot ask the youth why they are going out (to revolt)," Abbas said Monday. "They just despaired of the two-state solution."
As reported by Ynetnews