A British soldier who had his leg blown off by a bomb while serving in Iraq has taken the internet by storm after his Facebook post attacking Islamophobia went viral.
Chris Herbert, who served in the British Army in Basra, Iraq, lost his right leg when a bomb went off next to his Land Rover in 2007.
One of his comrades, Private Luke Simpson, died in the attack, while two other soldiers were also injured.
Toe ambassador Chris Herbert @HerbiePegLeg graduated from @portsmouthuni today Well done couldn't be more proud x pic.twitter.com/XBnrIpMIiH

— Toe in the Water (@toeinthewateruk) July 14, 2015
Herbert, who was 19 when he suffered the life-changing injury, took to Facebook after complaining that he was "getting frustrated" with people expecting him to be racist after losing his leg.
He told those holding the entire Muslim faith responsible for terrorism to: "Get a grip of your lives, hug your family and get back to work."
The post has been shared nearly 125,000 times and has been hugely popular on social media.
"Yes. A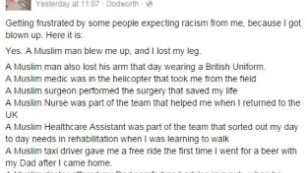 Muslim man blew me up, and I lost my leg," he wrote. "A Muslim man also lost his arm that day wearing a British Uniform.
"A Muslim medic was in the helicopter that took me from the field. A Muslim surgeon performed the surgery that saved my life.
"A Muslim Nurse was part of the team that helped me when I returned to the UK.
"A Muslim Healthcare Assistant was part of the team that sorted out my day to day needs in rehabilitation when I was learning to walk.
"A Muslim taxi driver gave me a free ride the first time I went for a beer with my Dad after I came home.
"A Muslim doctor offered my Dad comfort and advice in a pub, when he didn't know how to deal with my medicines and side effects."
"Get a grip"
Herbert's post comes at the same time as a petition has been launched to prevent Donald Trump from entering the UK.
Over 400,000 people have signed the petition — more than enough for a committee to consider sending the motion for parliamentary debate.
Trump, who is seeking the Republican nomination for the U.S. presidential election, claimed that parts of London were so radicalized that British police feared for their lives — a statement which was dismissed by British Prime Minister David Cameron.
Trump, who has previously called for surveillance against mosques and said he was open toestablishing a database for all Muslims living in the U.S., also stated that he wanted to ban all Muslims from traveling to the country.
Answering a question on Facebook, Herbert criticized Trump's policies, writing: "He's a fool, first line of the U.S. constitution declares (paraphrasing) that people cannot have rights taken away due to their religion. Even if he gets in, he has no legal right to do half the stuff he says."
Herbert, who lives in Portsmouth, on the south coast of England, said he took the decision to speak out after an "Islamophobic group tried to recruit" him as a poster boy for their organization.
He says that upon his return to the UK he was abused and discriminated against on a number of occasions by "white brits".