A Hanukkah candle-lighting ceremony was held at the prime minister's residence for Likud MKs. MK Sharren Haskel went over to the Netanyahu family dog and tried to pet her, at which point the dog bit her. No serious injuries were suffered.
Kaia, the Netanyahu family dog, bit MK Sharren Haskel from the Likud party, as well as Or Alon, husband of Deputy Foreign Minister Tzipi Hotovely on Wednesday evening, during a Hanukkah menorah-lighting ceremony held at the Prime Minister's residence in Jerusalem.
Haskel, who is trained as a veterinary nurse, came over to Kaia and tried to pet her. At a certain point, the dog apparently became frightened and bit Haskel.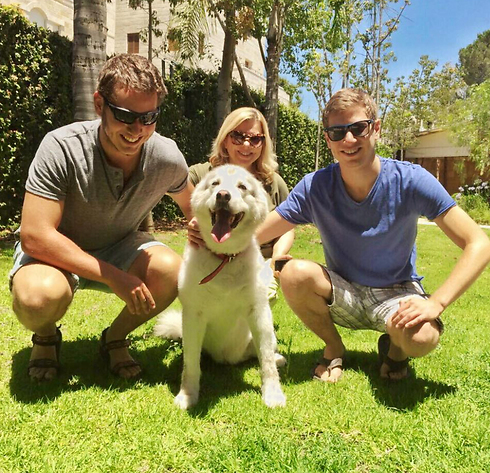 Haskel told other attendees that the dog was probably a bit agitated due to the commotion in the house and the large number of people. The prime minister's paramedics bandaged MK Haskel's hand, as well as treating Mr. Alon, and the event continued.
After the event, Haskel joked about it on Twitter, writing, "To all who worry about me, as someone who used to be a snake wrangler, a small bite from a dog won't deter me."
The Netanyahus adopted Kaia after Avner, the younger of their two sons, found out that she was about to be put to sleep and asked to adopt her. In a post published on the PM's Facebook page back then, Kaia was described as "a gentle and good-tempered dog who immediately blended into our family."
As reported by Ynetnews