Ever since becoming world heavyweight champion, British boxer Tyson Fury has been fighting for his reputation after allegedly making homophobic and sexist comments.
Now one of Britain's most successful boxing promoters Kellie Maloney, who has previously managed a former world heavyweight, has called for Fury to be struck off a prestigious sports award shortlist.
Kellie, who was known as Frank Maloney before undergoing gender reassignment last year, said Fury had "crossed the line" and should be removed from the BBC's Sports Personality of the Year (SPOTY) nominees ahead of the December 20 awards ceremony.
"Even though Fury's the heavyweight champion of the world, he still has to respect other human beings and respect the diversity that's in this world," the 62-year-old Maloney told CNN.
"Tyson has always been outspoken and said what he wants to say … in a way he's become a bit of monster because now he's at the top of the pile," she said of the boxer who upset the odds to recently defeat Wladimir Klitschko.
Maloney added that the 27-year-old champion Fury should be "punished and fined" for his offensive remarks, which include equating homosexuality and abortion with pedophilia, in a Daily Mail interview.
Fury was not immediately available for comment when contacted by CNN, but told the BBC earlier this week:"Let's not try and make me out to be some evil person and I hate gays because I don't hate anybody. I can actually say I don't hate anybody."
But more than 120,000 people have now signed a petition urging the BBC to remove Fury from its list of nominees, after the boxer also said Olympic heptathlon champion Jessica Ennis-Hill "slaps up good" in a dress, and that a woman's place was "in the kitchen and on her back."
Maloney, who came out of retirement earlier this year and is now managing two up-and-coming boxers for the first time as a woman, said the BBC needed to "send the message that if you're a role model, then you've got to behave a certain way."
"If the BBC keeps him on the list, then all sports people will think 'we can say what we like and we'll still be selected,'" she added.
"Young people will be also looking up to him and they'll think 'well if he can say that, we can say that.'"
The BBC says Fury's inclusion did not mean SPOTY endorsed the boxer's personal views, but the firestorm engulfing Fury shows no sign of going away.
On Monday, BBC news presenter Clive Myrie said on air: "You cannot be a d***head and win SPOTY," before adding that "those people signing this petition" might have that view of the boxer.
Voted for by the British public, the SPOTY award recognizes the athlete "whose actions have most captured the public's imagination."
A gay former police officer has also made an official complaint to Greater Manchester Police that Fury has "incited hatred towards homosexuals," according to the Manchester Evening News.
The GMP wouldn't comment when asked by CNN if they would be questioning Fury over that complaint.
By beating Klitschko, Fury won four of the boxing world's five heavyweight titles, though he has just been stripped of his International Boxing Federation (IBF) crown after it emerged that he had signed a contract with the Ukrainian for a rematch.
The IBF contract for the fight in November stipulated that the winner would need to face Vyacheslav Glazkov as a mandatory challenger.
Perfect Gentleman
Before she began transitioning in March 2014, Maloney was better known as the tough-talking, flamboyant male manager and promoter who led Lennox Lewis to his own world heavyweight championship in 1999.
"I was very lucky because Lennox Lewis was a perfect gentleman, who never offended anybody," said Maloney.
"If anyone offended people in them days, it was Frank Maloney."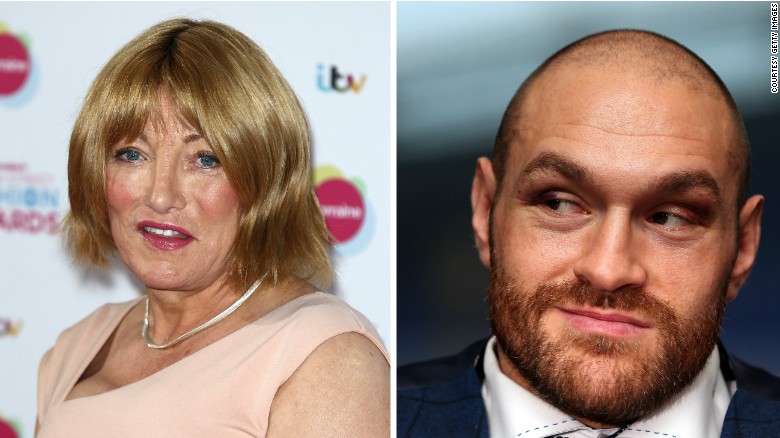 If she was Fury's manager, Maloney says she'd tell him to keep his controversial thoughts to himself.
"I would sit down with him and say: 'Tyson, some of these are things that you can't publicly print. Because there are young kids out there looking up to you.'
"I would also probably employ a PR person to check everything he puts out," she added.
Fury's comments aside, Maloney still praised the boxer for his remarkable sporting achievement.
"He achieved the impossible. He went to Germany, in Klitschko's backyard, and he took the title away from him," said Maloney. "Which no one expected — including myself."
Now back ringside as Kellie Maloney, the legendary boxing personality says she's a "much more happier and contented person."
"Where I was once at the top of the pile, I am now at the bottom and slowly have to work my way up in this world of boxing," she added.
"I'm doing that as the person I always believed I should be — as a female, as Kellie Maloney."
As reported by CNN