Four bodies have been found inside a capsized boat discovered floating off the north coast of Japan's main Honshu island — the latest of the so-called "ghost ships" washing up in Japanese waters in recent weeks.
The vessel — a 12.5-meter long wooden boat — was found on Sunday 10km (6.2 miles) south of the Ushitaki fishing port in Sai Village, Aomori prefecture, a spokesman for the Aomori Coast Guard told CNN Monday.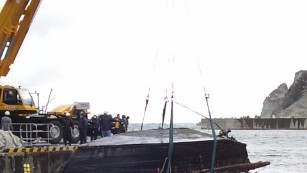 Though there was nothing to definitively identify the boat, it looks very similar to boats found in October in the same region, which featured Korean "Hangul" lettering and markings on their hull, he said, adding that they may have come from North Korea.
The condition of the latest boat indicated it may have been drifting for some time, he said.
Chilling cargo
Over the past two months, at least 12 wooden boats have been found adrift along Japan's coast carrying chilling cargo — the decaying bodies of 22 people, according to police and Japan's coast guard.
All the bodies were "partially skeletonized" — two were found without heads — and one boat contained six skulls, the coast guard said. The first boat was found in October, then a series of boats were found in November.
Coast guard officials are trying to unravel the riddle of where these ghostly boats came from and what happened to those on board. Their best guess so far is that the ships are from North Korea.
One clue pointing that direction is the same Korean lettering on the hull of a boat containing 10 decomposing bodies, one of three boats that were found adrift off the city of Wajima on the west coast of Japan on November 20.