Washington – Jimmy Carter's cancer is gone, the former president announced on Sunday.
"My most recent MRI brain scan did not reveal any signs of the original cancer spots nor any new ones. I will continue to receive regular three-week immunotherapy treatments of pembrolizumab," Carter said in a statement.
Carter, 91, first revealed the news in front of a Sunday School class he was teaching at Maranatha Baptist Church in Plains, Georgia.
Carter's health announcement was first reported by the Atlanta Journal-Constitution.
Stephanie Wynn, a 12-year member of the congregation, confirmed Carter's comments to CNN.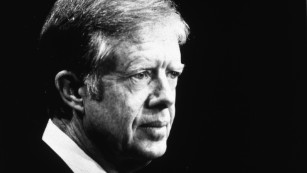 According to Wynn, Carter said he'd gone for an MRI last week, and the scan's results showed that he is cancer-free. The congregation applauded the news, she said.
Carter announced in August that doctors had told him that four spots of cancer had spread to his brain. He said his fate "is in the hands of God, whom I worship."
Three days after the announcement, Carter was teaching Sunday school, per his usual routine.
"Well, I always explain to the class where I've been the past couple of weeks," he had told the class, as he opened his notes at the lectern. "I missed two lessons because toward the end of May (and) first of June it was found that I had cancer, so they removed part of my liver," he said with sober frankness. "But then we had another MRI and it showed I have four places in my brain."
n November, Carter's doctors at Emory University's Winship Cancer Institute in Atlanta said his treatment had gone well — with no signs the cancer has spread.
The Carter Center said in a statement then that Carter's "original problem is responding well to treatment."
As reported by CNN