ISIS on Saturday hailed the two people who massacred 14 people in Southern California this week as "supporters" of the terror group — a message that came after U.S. investigators said they suspect one of the shooters professed loyalty to the Islamist network.
The terror group's official Iraq-based station made the declaration following Wednesday's San Bernardino shooting that also left 21 injured, but — notable for a group quick to claim attacks — did not say the couple were members or that ISIS was responsible.
Tashfeen Malik and her husband, Syed Rizwan Farook, sprayed bullets at Farook's co-workers at a holiday party for the environmental health department in San Bernardino before being gunned down in a shootout with authorities the same day.
"We pray to God to accept them as martyrs," ISIS' al-Bayan Radio declared Saturday.
The ISIS radio report came a day after the FBI said it was treating the attack as an act of terrorism.
It also came after reports that Malik made a public declaration of loyalty to ISIS' leader while the attack was underway. Three U.S. officials familiar with the investigation told CNN on Friday that Malik posted to Facebook a pledge of allegiance to ISIS leader Abu Bakr al-Baghdadi.
The couple's motivation for the attack is a key focus for investigators. But ISIS' acknowledgment of Malik and Farook as supporters doesn't mean they were members or that someone from the group ordered it, said retired Air Force Lt. Col. Rick Francona, a CNN military analyst and a former intelligence officer.
ISIS, when claiming responsibility for other terrorist attacks, would call attackers "knights" or "soldiers" rather than supporters. It has, however, urged sympathizers to carry out attacks on their own.
"What they're calling these two are supporters, which is kind of a lesser level," indicating it might not have had direct contact with the couple, Francona said.
On Saturday morning, officials briefing President Barack Obama about the investigation told him that they had "no indication that the killers were part of an organized group or a broader terrorist cell," the White House said.
'Act of terrorism'
Authorities searched the California house of the person who bought two of the rifles used by Farook, a federal law enforcement source said Saturday.
The source was not at liberty to discuss what was being sought or what was taken away — if anything — from the house because the warrant application was filed under seal.
Authorities are turning to phone, travel, computer and other records to determine why the couple committed the attack and had what amounted to a makeshift bomb lab in the rented Redlands townhouse they shared with their 6-month-old daughter.
The FBI took over the investigation from local authorities Friday, saying it was treating the attack as an "act of terrorism."
There was "evidence … of extreme planning" of the killings, said David Bowdich, assistant director of the FBI office in Los Angeles.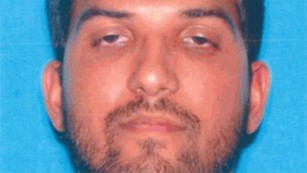 The mass shooting may indeed have been inspired by ISIS, a law enforcement official told CNN this week, but no official has told CNN that ISIS directed or ordered the attack.
"This is looking more and more like self-radicalization," a law enforcement official said on condition of anonymity.
A law enforcement source said another option investigators are looking into is whether a workplace issue with religion may have sparked the killings.
One notable piece of evidence will be Malik's alleged online allegiance pledge to al-Baghdadi. Facebook said it took the post down because it violated community standards that prohibit the promotion of terrorism or the glorification of violence.
Facebook declined to go into details about the nature of the post.
Connections to Middle East, Pakistan