Russian military officials laid out Wednesday what they say is "hard evidence" that Turkey is involved in an oil trade with ISIS, offering more detail on earlier claims that Turkish President Recep Tayyip Erdogan has flatly denied.
"We presented evidence how the illegal oil trade is carried out to finance the terrorist groups," Russian Deputy Defense Minister Anatoly Antonov said, as reported by state-run Sputnik news. "We know how much Erdogan's words are worth."
Officials presented photographs and videos that they said show links between Turkey and oil refineries in ISIS-controlled territory in Syria, estimating $3 million worth of oil per day was traversing this route before Russian airstrikes cut that roughly in half. Sergey Rudskoy, one of the military leaders, pointed to "three main routes (that) have been exposed for the transportation of oil to Turkey" — one ending in Turkish ports on the Mediterranean Sea, another at an oil refinery in Batman and a third in Cizre.
Antonov said "the highest political leadership of the country — President Erdogan and his family — are involved in this criminal business," crediting Russian journalists for their reports tying one of Erdogan's sons to a role in the scheme.
"If they think the evidence is fake, let them make these areas available to journalists," Antonov said, placing the burden on the Turks to disprove Russia's claims.
Keeping up his own tough talk, the Turkish President blasted the allegations as wrong Wednesday during a speech at Qatar University.
"No one has the right to slander Turkey, especially the slander of Turkey buying ISIS oil," Erdogan said. "Turkey has not lost its moral values to buy oil from a terror organization."
War of words
Wednesday's remarks from both sides were the latest verbal salvos since Turkey shot down a Russian warplane on November 24. Ankara says the plane was given ample warning and was in Turkish airspace; Moscow denies both assertions, saying the aircraft was downed over Syria. One of its pilots was killed, while another was rescued.
The war of words and simmering tensions between the two countries have escalated. On Saturday, Erdogan said that he was "saddened" by the incident but refused to apologize. That same day, Russian President Vladimir Putin signed into law various measures aimed at hurting Turkey economically.
And on Monday, Putin raised the ante more by leveling the accusation about secret ISIS-Turkey oil trade.
Erdogan quickly took a slap back at Putin, saying he'll resign if Moscow's claims are proven true and challenging the Russian leader to himself step down if he's in the wrong.
"As soon as such a claim is proved, the nobility of our nation requires (me) to do this," Erdogan said.
Turkish news: Syrian government bought ISIS oil
Turkey insists it's had nothing to do with buying oil from ISIS, but says that's not the case for Syria's government, led by embattled President Bashar al-Assad.
A report from Turkey's semiofficial Anadolu news agency noted recent comments by German Foreign Ministry spokeswoman Sawsan Chebli saying Tuesday that her country has not seen any solid proof of the Russian claims.
"But what we know, for example, is that the Assad regime has received large amounts of oil from ISIL," said Chebli, using another name for the terrorist group. "We have evidence."
Last week, the U.S. Treasury Department announced sanctions targeting, among others, George Haswani, "a Syrian businessman who serves as a middleman for oil purchases by the Syrian regime from ISIL."
An Anadolu report pointed to a European Council document from March noting that Haswani "provides support and benefits from" Assad's government through the ISIS oil purchases.
"He also benefits from the regime through favorable treatment including the award of a contract (as a subcontractor) with Stroytransgaz, a major Russian oil company," the document said.
Assad: Erdogan 'lost his nerve'
Assad and others in his government insist they want to destroy ISIS, not support it monetarily. Their goal is to win the ugly, complicated, years-long civil war, which U.N. humanitarian chief Stephen O'Brien estimated this summer has killed more than 250,000 people, displaced some 7.6 million within Syria and spurred over 4 million to escape to other countries.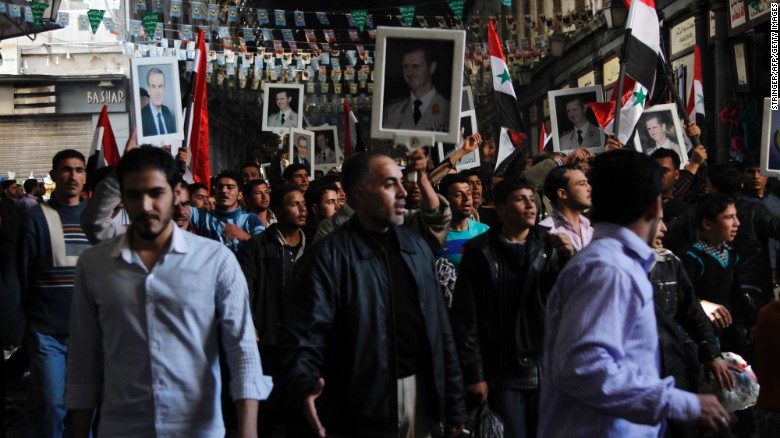 In a rare interview Sunday, Assad stood behind one of his few allies in this crisis, Putin. The Syrian President said the warplane shoot-down "has shown the real intention of Erdogan, who, let's say, lost his nerve just because the Russian intervention has changed the balance on the ground."
"So the failure of Erdogan in Syria, the failure of his terrorist groups, means his political demise. So he wants to do anything in order to put obstacles in front of any success," he told a reporter for Czech Television.
The Syrian government has lauded Russian airstrikes for making major inroads against "terrorists." But some in the West questioned if Moscow has exclusively gone after ISIS or has lashed out at others opposing Assad's government, including more moderate factions opposing him.
Erdogan has been among these voices, claiming that ISIS fighters weren't in the part of northern Syria being bombed by Russia when its warplane was shot down but rather that "our brothers and sisters, Turkmen" were there.
Russia's alleged violation of Turkish airspace has been a point of friction in the past.
In early October, Turkey said it intercepted a Russian jet that violated its airspace. The jet moved away when confronted by Turkish planes, Turkey said. Turkey then delivered a stern warning to the Russian ambassador.
Russia denied any aggressive intent, saying bad weather caused that jet to go off course.
U.S. taking Turkey's side
In the bitter debate about where the Russian warplane was flying when it was shot down, the United States has taken Turkey's side.
The available information indicates the warplane was in Turkish airspace, State Department spokeswoman Elizabeth Trudeau said.
U.S. Secretary of State John Kerry said Wednesday that Turkey will seal off the unsecured part of its border with Syria.
He said there is still a 98-kilometer (61-mile) stretch of the border that is not sealed.
The closure is aimed at stopping the movement of illegal oil as well as the flow of foreign fighters from Syria to Turkey.
Kerry also reiterated his country's opposition to Assad remaining in power, while expressing hope that the structure of Syrian government can remain. He said that Washington and its allies want to avoid a collapse of authority like what happened in Iraq after the ouster of Saddam Hussein.
"Our hope and prayer is that indeed Russia and Iran will stay committed to the concept of a transition that really legitimizes governance in Syria in a way that can bring about a ceasefire and in a way that can bring an end to the conflict," Kerry said. "That is not regime change, that is Assad change."
As reported by CNN