Complaints lead Ethics Committee to suspend Hazan from Knesset meetings for a month; AG expected to order his indictment on separate matter of finances.
What was already a bad day at the office for under-fire Likud MK Oren Hazan took a dramatic turn for the worse on Wednesday, when the news that he had been suspended from the Knesset for a month was swiftly followed by a damning report accusing him of financial mismanagement during the last Likud primaries.
The Knesset's Ethics Committee suspended Hazan from all Knesset plenary and committee meetings for a month, a decision taken following a series of complaints against the controversial MK. The most recent storm erupted about a week ago when Hazan spoke to Yesh Atid MK Karin Elharar about her disability in a derogatory manner, provoking angry responses from other MKs.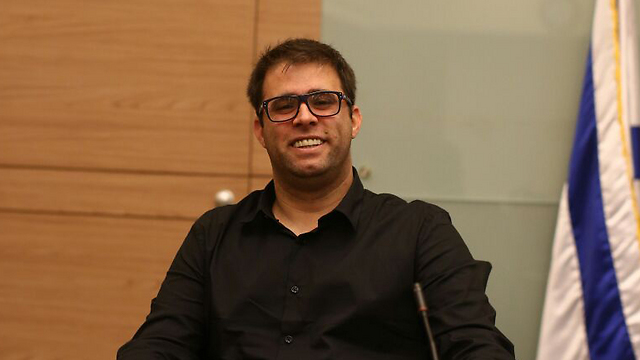 In response to the decision, Hazan attacked the committee, saying that he was waiting for them to "decide on my complaint about MK Elharar cursing me, calling me 'garbage, nothing, die, die.'"
Hazan's comments to Elharar came as he accused her of conspiring to double vote when MK Esawi Frej, who was sitting next to her, assisted her with her vote due to her disability.
Following the controversy, Prime Minister Benjamin Netanyahu said: "I cannot tolerate racism, discrimination or abuse. A member of my faction said something it is forbidden to say and I thoroughly condemn him… This is a serious incident." He did not mention Hazan by name.
Also on Wednesday, about an hour after the Ethics Committee's decision, State Comptroller Yosef Shapira released his report on the spending of political party members during their primaries. Among other serious allegations, the investigation that led to the report found that Hazan had lied about his financial outgoings during his campaign.
Hazan claimed at the time that he had only spent NIS 7,000 on his campaign during the primaries to determine Likud's Knesset roster, the sum needed to submit his candidacy. In fact, however, he spent around NIS 25,000, primarily on advertising, which he did not declare to the state comptroller at the time.
Hazan claims he did not know he had to submit the details on campaign expenses that others had paid for, but the state comptroller rejected the claim and said that Hazan had lied in an affidavit – a criminal offense that can carry a sentence of three years' imprisonment. Hazan has also been fined NIS 5,000.
Attorney General Yehuda Weinstein is expected to order Hazan's indictment following the revelations.
The state comptroller's report also resulted in a warning for Culture and Sport Minister Miri Regev, who was found to have illegally accepted free products and services that assisted with her primaries campaign.
Education Minister Naftali Bennett, meanwhile, was fined NIS 30,000 for overspending during the campaign and using the primaries to promote his Bayit Yehudi party, which contravenes the rules of the primaries.
Bennett spent around NIS 1.2 million on his campaign, most of which came from donations from abroad.
As reported by Ynetnews