A Kansas man suspected of killing his 7-year-old son is in jail as investigators try to identify of human remains found on his property.
Michael A. Jones, 44, of Kansas City is accused of abuse of a child, aggravated assault and aggravated battery. The case generated national headlines after claims by anonymous sources that Jones beat his son to death and fed his body to pigs.
Authorities have refused to address those claims. Wyandotte County District Attorney Jerome A. Gorman said he wouldn't discuss the allegations at news conference Monday.
Police were initially called to the home last Wednesday for a domestic violence situation involving the suspect's wife, 29-year-old Heather Jones, Gorman said.
While they were on the scene, police were told that the couples' son had not been seen for some time, the district attorney said. The next day, authorities announced they had discovered human remains on the property.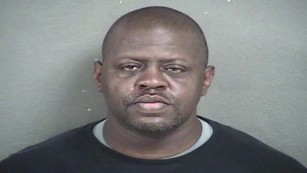 Gorman said an autopsy has been completed, and police are working with a forensic anthropologist to determine whether the remains belong to the missing boy.
Police are referring to the missing boy as "AJ."
Authorities have taken six other children living in the home into police protective custody. The children are all girls under age 11.
Child welfare services in Kansas and other states had contacts with the family, Gorman told reporters. But he wouldn't reveal the nature of the contacts or confirm whether there were any open investigations involving the children.
Gorman said the aggravated assault and aggravated battery charges resulted from the investigation into the incident between Jones and his wife. He said the abuse of a child charge is "the tip of the iceberg," adding that detective work needs to be done.
"Be patient," Gorman told reporters. "The police have been working on this. A lot of them gave up their Thanksgiving day with their families. And there's still a lot of work for them to do that we've outlined. Once all of that evidence comes in, we'll review all that and see if it warrants more charges."
The investigation is being conducted jointly by the prosecutor's office, the local sheriff's department and the Kansas Department for Children and Families, Gorman said.
Gorman said the case has been a difficult one, both for him and for the investigators.
"From my discussions with the officers who've been out there, they've described this as one of the worst things that they have ever seen," he told reporters.
"And for officers who have been on the street and have been detectives, for them to come up and say that this case has made them angry … you can surmise from that what kind of scene it must have been."
Jones' bail was set at $10 million. The judge refused to consider a bond reduction, CNN affiliate KCTV reported.
"It's the largest bond I've seen in my 34 years as a prosecutor," Gorman said.
Jones himself owns a bonding company, but he is not licensed in Wyandotte County, where he's being held.
As reported by CNN