The families and girlfriends of two Australian surfers feared dead after their burned-out van was found in Mexico have traveled to the country in an attempt to "get some answers."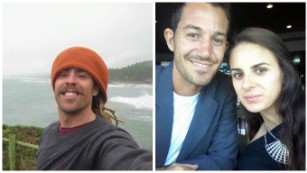 Dean Lucas and Adam Coleman, both 33, had been missing for over a week when the van was discovered in the state of Sinaloa — an area known as the home of the Sinaloa drug cartel.
The men, from near Perth in Western Australia, had been on a surfing trip from Canada to Mexico and were due to arrive in the city of Guadalajara on November 21, but they never showed up.
Two bodies have reportedly been found inside the charred van, but these have not been identified as the missing men.
The girlfriend of Coleman, Andrea Gomez, was also reportedly due to meet the surfers in Guadalajara.
Josie Cox, the girlfriend of Lucas, has flown to Mexico to identify the bodies in the van, and she revealed on Facebook that her partner had been set to propose.
Cox is also reportedly bringing her boyfriend's dreadlocks and dental records to help confirm the identities of the bodies in the van.
Coleman's mother, Zena Cattermole, also shared on her Facebook page that her "son's life has left us."
The Australian Department of Foreign Affairs and Trade told CNN there were "grave fears for the safety of the men" and said it is working with Mexican authorities to provide assistance to the families.
"The families and partners are aware the van in which they were traveling has been located by Mexican authorities and that a tragic event has occurred," a department statement said.
"The families hold deep fears for the safety of their sons but stress that they are still waiting for details to be confirmed."
A GoFundMe page has crowdsourced over $38,000 (U.S. $27,000) to help the families of the men in their journey to Mexico.
As reported by CNN