Istanbul – The body of a Russian pilot killed after his jet was shot down by the Turkish military has been handed over to Turkish authorities, Prime Minister Ahmet Davutoglu told journalists in Ankara on Sunday.
At Russia's request, the pilot had been given Orthodox funeral rites, and his body would be handed over to Russia,Turkey's semi-official Anadolu news agency reported.
The pilot's body was handed over to Turkey in the early hours of Sunday, he said. It was not immediately apparent who had custody of the body before then.
The two nations have been at odds since Turkey shot down the jet near the Turkey-Syria border on Tuesday, saying it had violated Turkish airspace. Russia has denied that claim.
The countries disagree sharply on whether the Russian plane was in Turkish airspace when it was shot down, as well as whether any warnings went out to the crew.
Russia claims that its planes were bombing ISIS militants in the area, though Turkish President Recep Tayyip Erdogan has said that only Turkmen — "our brothers and sisters" — were in that region of Syria.
The incident left one pilot dead; another was rescued.
Erdogan: 'Let's talk'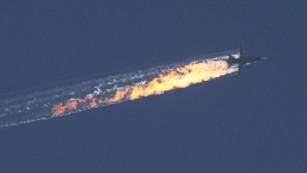 After days of tough talk in the wake of the incident, Erdogan struck a more conciliatory tone Saturday, saying that his government was "really saddened" by the matter, and insisting that he did not want to ramp up tensions.
"We wouldn't have wished this to happen. But, unfortunately, it did," he said at an event in Balikesir.
"We hope that the tensions with Russia will not grow and result in more saddening incidents."
Erdogan appealed for dialogue, saying the U.N. climate change conference in Paris, which he and Russian President Vladimir Putin are expected to attend, would be a good place to have such talks.
"We tell Russia, 'Let's talk about this issue within its boundaries, and let's settle it,' " Erdogan said Saturday. "Let's not make others happy by escalating it to a level that would hurt all our relations."
However, his comments fell short of the apology Moscow has demanded.
Putin signs punitive decree
By contrast, Russian President Vladimir Putin has accused Turkey of trying to bring its relations with Russia to a "dead end," calling the shootdown "a stab in the back" and tying Turkey to terrorists.
On Saturday, he signed a decree authorizing punitive economic measures against Turkey.
The decree partially suspends "visa-free" travel between the countries, mandates that Russian travel agencies stop selling tours to Turkey — a major tourist destination for Russians — and bans charter transportation between the nations, according to state-run Sputnik news.
The decree also prohibits the import of certain Turkish goods.
The ordeal has raised questions about international leaders' ability to come together to combat ISIS, which has taken over swaths of Syria and Iraq and claimed attacks in Europe, Asia and Africa.
French President Francois Hollande has been meeting with world leaders over the past week in an attempt to strengthen international efforts to destroy the Sunni extremist group.
But the tension between Turkey — part of the NATO alliance — and Russia, which has been conducting its own campaign of strikes against rebel groups in Syria, would appear to complicate those efforts.
Russia is a staunch ally of embattled Syrian President Bashar al-Assad, while Turkey and its Western allies have supported rebel groups seeking to overthrow his rule.
As reported by CNN