Pope Francis begins his first full day in Uganda on Saturday — a country whose legal stance against homosexuality does not mirror his message of tolerance.
Francis began, unsurprisingly, on a positive note.
"The world is witnessing an unprecedented migration of peoples," he tweeted. "I want to thank Uganda for its generosity in welcoming refugees."
Ugandans are expected to gather at a shrine Saturday, where Pope Francis will celebrate Mass for martyrs killed in the l800s for refusing to renounce their faith
In addition, the Pope met privately Friday with Salva Kiir, the president of South Sudan, according to Vatican spokesman Federico Lombardi.
Lombardi said the visit was arranged by Ugandan President Yoweri Museveni.
South Sudan is the world's youngest country, having gained independence in 2011, and it has been wracked by internal conflict for much of its brief existence.
After Uganda, the dangers of the Central African Republic
On Sunday, Francis will travel to the Central African Republic, where Muslim and Christian militias are slaughtering one another, making it probably the most dangerous country a Pope has visited in modern memory. It is also one of the poorest countries in the world, and a place where Francis' message of uplifting the poor will resonate.
Those attacks continue, and have displaced hundreds of thousands of people.
The Pope plans to visit a mosque in the country, sending a powerful message of religious unity.
'The dreadful injustice of social exclusion'
That visit will by no means be the Pope's first encounter with the less fortunate on his African trip. .
On Friday, he waded into the heart of a Kenyan shantytown, spreading a message of acceptance and lashing out at the elite for neglecting the poor.
In the sprawling slum filled with tin-roofed homes, he described injustices against the less fortunate as "new forms of colonialism."
he "dreadful injustice of social exclusion" leaves the poor with an unfair distribution of land, lack of access to infrastructure and minimal basic services, he said.
"Our world has a grave social debt toward the poor who lack access to drinking water because they are denied a life consistent with their inalienable dignity," the Pope said.
'Your visit gives us courage'
Kangemi residents applauded his focus on the downtrodden.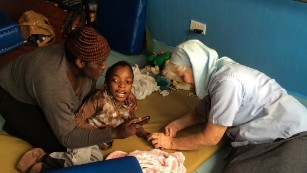 "Sometimes challenges in slums almost cause us to despair and some people give up working in slums," said Sister Mari Killeen, who works with the less fortunate.
"Your visit gives us courage. By coming here, you shine a light on the challenges. Your meeting with us gives us dignity."
The presence of an international figure in their backyard drew some residents closer to the church.
"He has restored my faith. I have a role model and will practice his humility," said Regina Kimende, who came from a neighboring parish. "After seeing him today, I have decided my life is at the church. I'm starting all over."
Pope: Corruption eats you
Francis' last day in Kenya included meeting with youths at a Nairobi sports center, where he also held talks with bishops.
During his meeting with the youths, he addressed corruption, which is rampant in Kenya and has made headlines recently.
"It's not just in politics. It is in all institutions, including in the Vatican there are cases of corruption," he said.
Pope in Africa: Send us your #MessageToThePope
"Corruption is something that eats you inside like sugar. It's sweet, we like it, it's easy. And then we end up sick and poor. So much sugar that we either end up being diabetic or own country ends up being diabetic."
He also called for equal distribution of wealth to ensure the disenfranchised are not at risk of getting radicalized.
First papal trip to Africa
Francis' first papal trip to Africa started in Kenya on Wednesday, and has addressed other issues such as climate change and poaching.
He delivered a warning Thursday ahead of a climate change conference next week in Paris. He urged nations to reach an agreement to curb fossil fuel emissions, and to work together to find solutions to environmental degradation.
"It would be sad, and I dare say even catastrophic, were particular interests to prevail over the common good," the Pope said.
But it was his comments on the pillaging of African resources that drew a louder response.
He urged Africans to demand an end to poaching, which "fuels political instability, organized crime and terrorism." The message reverberated with a nation where farming and tourism are a crucial part of the economy.
Francis' predecessor, Pope Benedict, visited several countries in Africa. During his nearly three decades in the papacy, Pope John Paul II also made dozens of trips to the continent.
Museveni signed into law last year a bill that toughens penalties against gay people in Uganda and defines some homosexual acts as crimes punishable by life in prison.
As reported by CNN