Attorney General Loretta Lynch calls it a "crime against women;" Colorado Gov. John Hickenlooper says it's "a tragedy that is beyond speech."
Police have not yet disclosed any motive for the shooting.
Meanwhile, suspect Robert Lewis Dear's trail leads back to a hermit's shanty in the isolated mountains of North Carolina, and a Colorado community mourns an officer who drove 10 miles to help fellow officers, only to encounter a furious flurry of gunfire.
Three people were shot and killed Friday in a harrowing, hours-long siege at a Planned Parenthood in Colorado Springs, a city of about 450,000 some 70 miles south of Denver.
Among the victims was Garrett Swasey, a University of Colorado-Colorado Springs police officer who rushed to the clinic to offer his assistance. "There was no way any of us could have kept him here," UCCS Police Chief Brian McPike said of Swasey during a Saturday evening vigil. "He was always willing to go…he had an enthusiasm that was hard to quell."
In addition to the three killed, five officers and four civilians were hospitalized for wounds sustained in the shooting. Lt. Catherine Buckley said Friday night all were in good condition. By late Saturday afternoon, officials said five patients remained in two hospitals.
One of those is Colorado Springs SWAT team officer Dan Carter, according to his parents, who told CNN that their son was recovering from a gunshot wound.
Opposition to abortion eyed as motive
"I'm not going to say the perpetrator's name," a sullen Hickenlooper said Saturday, referring to Robert Lewis Dear, the man authorities suspect was the shooter.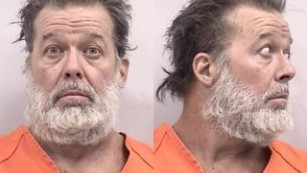 Dear, 57, is being held without bail in a Colorado Springs jail, according to the El Paso County Sheriff's Office.
While authorities said that a motive had not yet been established, Mayor John Suthers said "inferences (could be made) from where it took place," the Denver Post reported.
Vicki Cowart, president of Planned Parenthood of the Rocky Mountains, went beyond an inference, saying the shooter "was motivated by opposition to safe and legal abortion." Lynch, who called the "unconscionable attack" a "crime against women receiving health care services," pledged the full resources of her office for the investigation.
Planned Parenthood, which delivers reproductive health care and sex education to women and men across the United States, has come under attack before.
At least three Planned Parenthood buildings have been vandalized since September, when the organization was criticized in Washington and by some Republican presidential candidates after an anti-abortion group released videos alleging that it sold fetal organs and parts for profit. Planned Parenthood has disputed the veracity of the videos, contending that they are heavily edited and provide a distorted account.
Who is Robert Lewis Dear?
Based on a public records search, Dear appears to have lived in Colorado for only about a year. In October 2014, Dear purchased property in Hartsel, a rural community about 65 miles west of the clinic, for $6,000. Zigmond Post, a neighbor, said one of the few interactions he had was when Dear brought him some anti-Obama pamphlets. "That's about all I've run into him," he said.
Prior to Hartsel, Dear appears to have spent much of his life in the Carolinas.
WLOS, a CNN affiliate in Asheville, North Carolina, photographed a dilapidated-looking mountain cabin that Dear reportedly called home in rural Buncombe County. The sheriff's office there said they only had one recorded contact with Dear, a civil citation issued in 2014 for allowing his dogs to run wild.
A decade before that, Dear was arrested and charged with two counts of animal cruelty while living in South Carolina, but he was found not guilty in a 2003 bench trial. In 2002, Dear was charged with being a peeping tom; those counts were dismissed in South Carolina. In 1997, Dear's wife accused him of domestic assault, although no charges were pressed, according to records provided by the Colleton County, South Carolina Sheriff's Office.
Dear is scheduled to appear at 1:30 p.m. Monday before Chief Judge Gilbert Martinez, El Paso County court spokesman Rob McCallum said.
Scanners capture police plans
Conversations captured over the police scanner gave glimpses into the drama as well as the strategic debate about what to do.
Despite initial fears that the gunman might be running around outside, authorities later determined that he was inside the Planned Parenthood building — once he got through the front door — throughout the siege, Buckley said.
Joan Motolinia's sister was among those inside. She called her brother Friday afternoon, and "I heard the shooting," a tearful Motolinia said.
"She couldn't say much because she was afraid," he said.
Kentanya Craion, who had visited the clinic for an ultrasound, said she saw the gunman shooting as she left outside in the parking lot, so she turned around and ran back inside. "He had no remorse," Craion said. "This was just a game to him."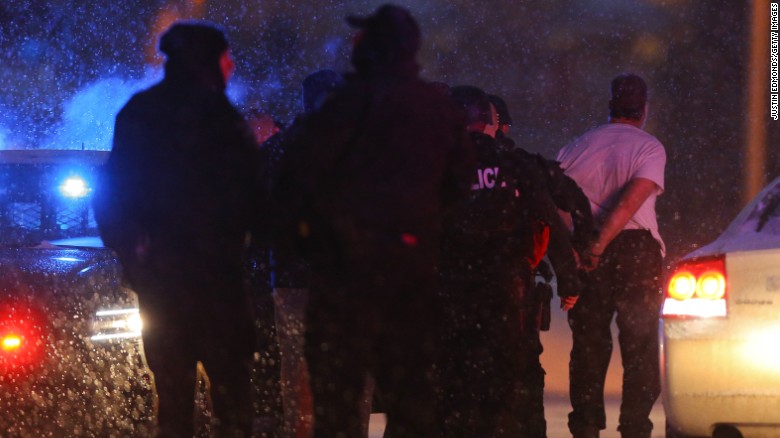 Obama: 'Enough is enough'
In a statement Saturday, President Barack Obama didn't mention the controversies surrounding Planned Parenthood, but he did offer praise for Swasey, condolences to the families of the victims and condemnation of the attack as another example of gun violence.
"The last thing Americans should have to do, over the holidays or any day, is comfort the families of people killed by gun violence — people who woke up in the morning and bid their loved ones goodbye with no idea it would for the last time," Obama said. "And yet, two days after Thanksgiving, that's what we are forced to do again."
As he has time and again after mass shootings, the President called on policymakers to do something to prevent them.
"This is not normal. We can't let it become normal," he said. "If we truly care about this — if we're going to offer up our thoughts and prayers again, for God knows how many times, with a truly clean conscience — then we have to do something about the easy accessibility of weapons of war on our streets to people who have no business yielding them.
"Period. Enough is enough."
As reported by CNN