France seeks cooperation with Russia against terror group, while Germany announces it will deploy personnel and equipment and the UK's Cameron says the time has come to join airstrikes in Syria.
French President Francois Hollande told Russia's Vladimir Putin on Thursday that world powers must create a "grand coalition" to combat Islamic State militants who control swathes of territory in Syria and Iraq. Meanwhile, Germany announced that it would commit military personnel and hardware to the fight, and British Prime Minister David Cameron said it was time for the United Kingdom to join airstrikes.
Putin said after the talks that Russia is open to closer cooperation with both France and the US-led coalition on selecting IS targets.
Hollande said after the meeting that France and Russia had agreed to exchange intelligence on Islamic State and other militant groups in Syria to help improve the effectiveness of their aerial bombing campaigns in the country.
"What we agreed, and this is important, is to strike only terrorists and Daesh (Islamic State) and to not strike forces that are fighting terrorism. We will exchange information about whom to hit and whom not to hit," Hollande told a joint news conference with Putin.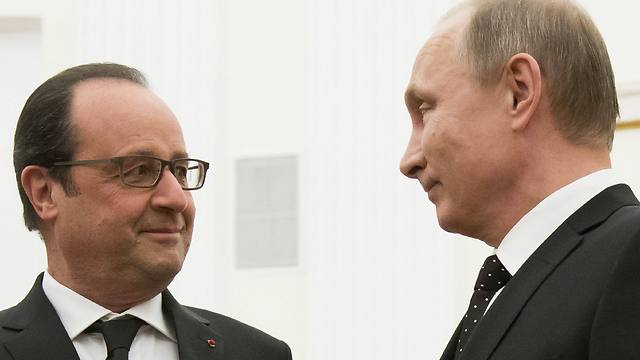 Hollande is on a diplomatic offensive to build a common front against the militant Islamist group that has claimed responsibility for the attacks in Paris on Nov. 13 that killed 130 people.
Islamic State has also said it downed a Russian plane on Oct. 31 over the Sinai Peninsula in Egypt, killing all 224 people on board.
"Our enemy is Daesh, Islamic State, it has territory, an army and resources, so we must create this large coalition to hit these terrorists," Hollande said in televised remarks at the start of bilateral talks with the Russian leader in the Kremlin.
"I'm in Moscow with you to see how we can act together and coordinate so that we can strike this terrorist group, but also reach a solution for peace," Hollande said.
Putin said Moscow was ready to unite with Paris against a "mutual enemy" following the downing of the Russian airliner and the attacks in Paris.
However, the leaders avoided looking at each other during their brief televised exchange, underlining the still-awkward relationship between Russia and the West due to the Ukraine crisis and differences over Middle East policy.
Both Russia and France have stepped up their aerial bombing campaigns in Syria but they have different objectives.
Also Thursday, Germany announced it will join the military campaign against ISIS by deploying Tornado reconnaissance jets, refueling aircraft and a frigate to the region following a direct appeal from close partner France for Berlin to do more.
The decision to commit military personnel and hardware is a shift for Germany, which has resisted such direct involvement in the conflict. It has no plans to join France, the United States and Russia in conducting air strikes in Syria.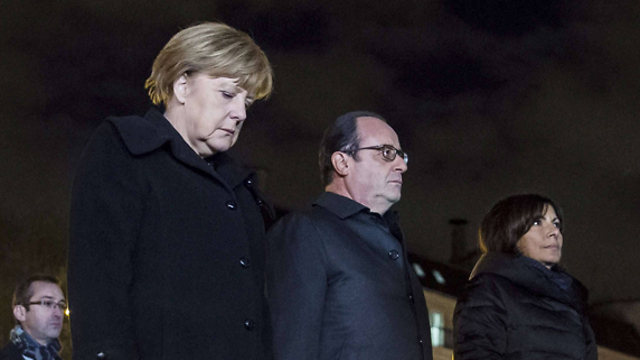 "Today the government took difficult but important and necessary decisions," Defense Minister Ursula von der Leyen told reporters after meeting with lawmakers. "We are standing with France, which was hit by these inhuman attacks from IS."
Chancellor Angela Merkel promised the support, which must still be approved by parliament, during talks with French President Francois Hollande in Paris on Wednesday.
Berlin expects to commit between four and six Tornado jets, provide satellite support, refueling planes and a frigate to help protect the French aircraft carrier Charles de Gaulle, which the French navy has sent to the eastern Mediterranean to support air strikes in both Syria and Iraq.
Meanwhile, British Prime Minister David Cameron said it was time to join air strikes against ISIS because Britain cannot "subcontract its security to other countries".
The Royal Air Force is part of the US-led coalition attacking IS militants in Iraq, but not in Syria. Cameron has been reluctant to seek backing for strikes in Syria since lawmakers voted down his 2013 plan to launch RAF strikes against Assad's force.
Earlier this month, Parliament's Foreign Affairs Select Committee said British airstrikes would be "incoherent" and ineffective without a plan to end Syria's four-year civil war.
Cameron replied Thursday with a 36-page letter, arguing that Britain should act to deny the Islamic State group a "safe haven" from which to plot mass-casualty attacks.
He said airstrikes should be part of a "comprehensive overall strategy" to destroy IS, end the Syrian war and help rebuild the country.
He argued that military action was legal under the UN charter's right to self-defense. And he said while ground forces would also be needed, they would not be British.
Cameron said airstrikes would not increase the already-high risk of an attack in Britain. He said British authorities have foiled seven attacks in the past year either planned or inspired by ISIS.
Cameron said he would only seek a vote in Parliament if "there is a clear majority for action," so as not to hand ISIS "a publicity coup."
Labour Chairman Jeremy Corbyn wrote to his MPs on Thursday that he could not support airstrikes against ISIS.
As reported by Ynetnews