Top echelon decides that family members' Israeli work parents would be cancelled and to carry out administrative detentions of Hamas activists in the West Bank.
Prime Minister Benjamin Netanyahu and Defense Minister met Monday with IDF top brass and among other measures are considering expelling the families of terrorists to the Gaza Strip
They instructed security forces to increase checks of Palestinian vehicles on shared routes such as the road leading towards the Valley of Elah (near Beit Shemesh), route 60 and highway 35, in addition to the operations already underway involving thousands of soldiers in the Hebron area in recent days.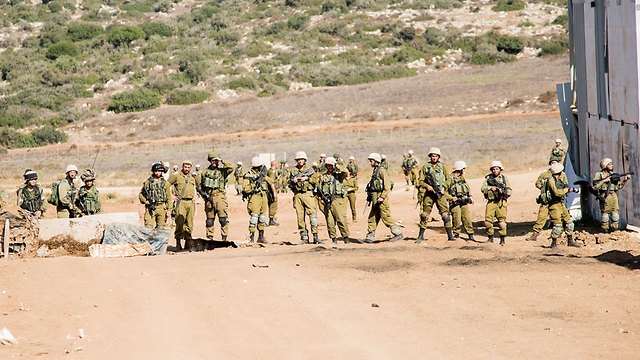 Aside from the immediate destruction of terrorists' homes, it was decided that their close family members would have their Israeli work permits cancelled as well as their exit permits to Jordan. The decision was taken after in at least one attack in Gush Etzion in recent days, it became known that the terrorist told his mother of his intention to carry out an attack, and she did not prevent him from attacking.
It was also decided to reinforce the resolute actions being carried out by the Shin Bet nightly against Hamas in the West Bank, and to begin a series of administrative detentions against activists affiliated with Hamas for fear that they will build terror cells, with the encouragement of top Hamas members in Gaza. Its members call its activists in the West Bank to carry out attacks.
At this stage the Israeli political and diplomatic leadership is avoiding declaring steps such as a closure or encirclement as they fear such steps would further exacerbate the security situation
As reported by Ynetnews