As talks with the 'princess of pop' have reached the advanced pricing stage, the 'queen of pop' may also include Tel Aviv in her world tour this summer.
The battle between Israeli producers over a possible Britney Spears concert in Tel Aviv is heating up, boosting the chances that the eternal "princess of pop" will indeed arrive in Israel next summer.
But Britney may not be alone. The "queen of pop," Madonna, is also in initial talks with several producers in the Israeli market.
Back to Spears. As first reported by Yedioth Ahronoth, for the first time in her career her people are holding serious talks for a concert in Israel. At least three groups of Israeli producers have entered the pricing stage, assuming that the singer will indeed embark on a new European tour to promote her next album.
Sources in the industry expect the producers' competition to end in a signed contract very soon. "The current price quotation has already reached $2.5 million," says a producer involved in the talks. "I will be very surprised if Britney's people fail to sign the contract soon. It would be very hard to say no to such a sum."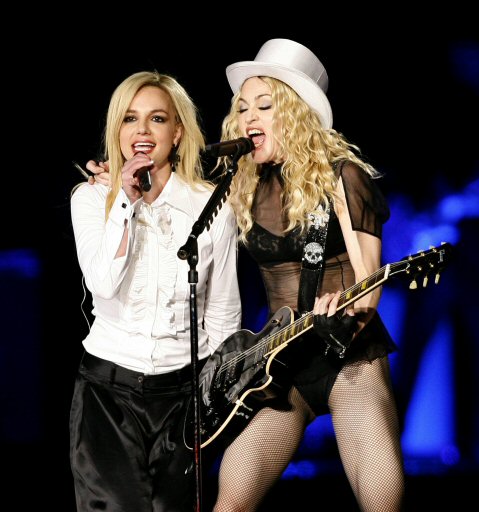 British pop star Robbie Williams came to Israel last May for about $1.5 million, and American rapper Kanye West performed in the country for about $800,000. An offer of $2.5 million indicates that the Israeli producers believe a Britney Spears concert will draw at least 40,000 people.
Meanwhile, Spears is working on her next album, and over the weekend she welcomed two interesting guests to her Planet Hollywood show in Las Vegas: Beyonce and Jay Z. British singing sensation Adele mentioned recently that she would love to see Spears' Vegas show, and Spears responded by offering to trade two tickets to her show for two tickets to Adele's show.
As for Madonna, her world tour is already an established fact after starting off in Montreal on September 9. Her previous tour, MDNA, kicked off in Israel on May 2012 and recorded unusual commercial success, grossing $305 million from 88 shows.
Last March, Madonna released the album "Rebel Heart," which wasn't one of her most successful ones, but as far as concerts are concerned she has no problem, especially outside the United States.
For the first time in over 20 years, Madonna will return to Australia for six concerts in March, after two shows in New Zealand. Israel has been offered a number of possible dates in the summer, and several producers have already began holding talks with the singer's representatives. Some of them have also attended her concerts in order to review the setlist.
Madonna, who is a shrewd businesswoman, knows how important this tour is and is therefore seeking to channel it to as many destinations as possible. Her 10-year $120 million contract with entertainment company Live Nation is about to end next year, and the numbers of the current tour will determine the next contracts.
As reported by Ynetnews