Satirical magazine and terrorism target responds to Paris attacks with typically irreverent cover; children's newspaper publishes explanation of attacks for small children.
The irreverent French satirical magazine Charlie Hebdo, whose offices were the site in January of a deadly terrorist shooting, is to publish on the cover of its new issue a cartoon referencing the coordinated terror attacks in Paris that killed at least 129 on Friday.
The cartoon shows a man merrily celebrating with champagne – which pours out of the bullet holes with which his body is riddled. "They have the weapons," reads the caption. "Screw them. We have the champagne! (The message may deliberately echo a phrase frequently attributed to the Taliban: "You have the watches, we have the time.")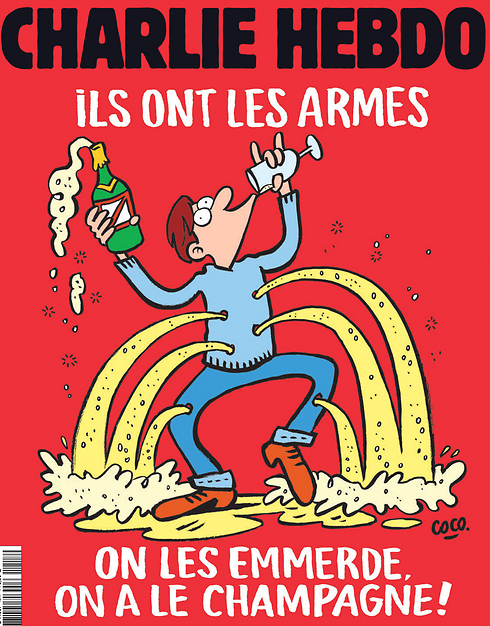 Whether the cover is meant to be critical towards France's reaction to terrorism or a defiant declaration of the victory of the French spirit is, of course, open to interpretation.
Meanwhile, France's teachers have been using illustrations to explain the killings to small children.
An image of a weeping Eiffel Tower holding small children's hands and looking at a pool of blood appeared in a special online issue of the newspaper Astrapi, which explained how "hate-filled people" committed the terror attacks.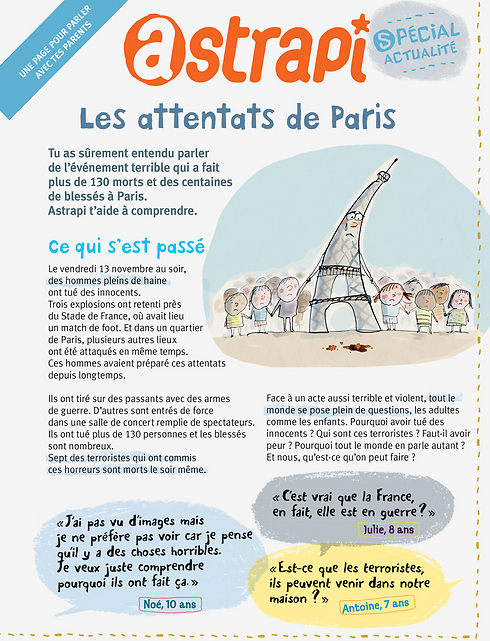 "What we know is that these were terrorists, people who use violence and terror to enforce their ideas," the online children's publication said. "The first thing we feel is fear. In order to make sure that it doesn't stay inside, we have to talk about it."
The online paper included questions by children: "Can terrorists come to our homes?" and "Is it true that France is at war?"
The French Education Ministry posted the image on Twitter and included material from the newspaper in a briefing given to teachers.
Mon Quotidien, a publication geared towards older children, published a map of the Middle East highlighting areas of Syria and Iraq that have been conquered by IS.
As reported by Ynetnews