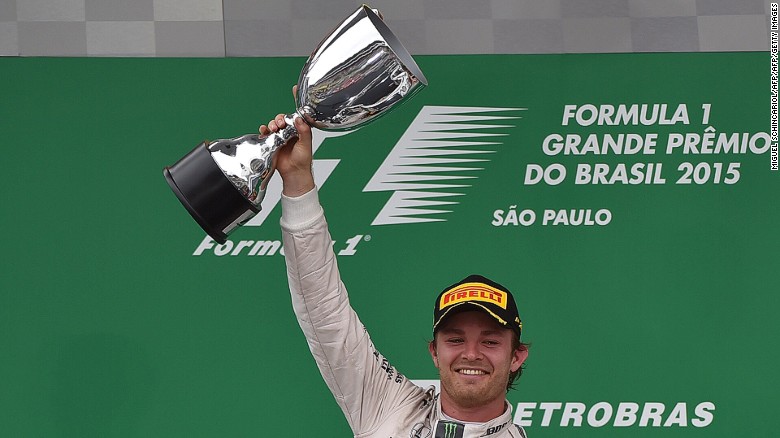 Nico Rosberg claimed back-to-back F1 triumphs as he raced to victory in the Brazilian Grand Prix Sunday.
The Mercedes driver has cut a frustrated figure for much of 2015 as teammate and rival Lewis Hamilton cruised to a second straight F1 title.
But it was all about the German in Sao Paolo this weekend as he built upon victory in Mexico last time out to notch consecutive victories for only the second time this season.
"I am very happy and it went perfectly," Rosberg said on the podium after the race.
"Lewis put up a good challenge, but I was able to control it and I never gave him a chance so I am pleased with that," he added.
Rosberg started on pole at the Interlagos track and refused to give up the lead all afternoon despite being pushed hard by Hamilton for long spells.
The Briton was just two seconds behind with 20 laps remaining but could only watch on in frustration as Rosberg edged away towards the end.
Sunday's result means Rosberg is now guaranteed to finish second in the driver's championship.
Ferrari's Sebastian Vettel claimed third ahead of teammate Kimi Raikkonen in fourth and Valtteri Bottas of Williams in fifth position.
Nico Hulkenberg of Force India claimed sixth spot while the Red Bull of Danii Kvyat finished seventh.
Felipe Massa, Romain Grosjean and Max Verstappen claimed the final points positions in eighth, ninth and tenth respectively.
Hamilton had spoken of his fatigue from partying since winning the championship at the U.S. Grand Prix in Austin last month.
But he offered only congratulations to his teammate Sunday despite taking a pop at the difficulty of the Interlagos circuit and the refusal of his team to change strategy mid race.
"I had good pace, but you cannot overtake here. I was behind Nico and in traffic for some time and it just killed my tires," Hamilton said.
"I am here to race and when you are both in the same order it is like it is already set from the beginning.
"If there are any other strategies, let's do it, let's take a risk, let's do whatever," he added.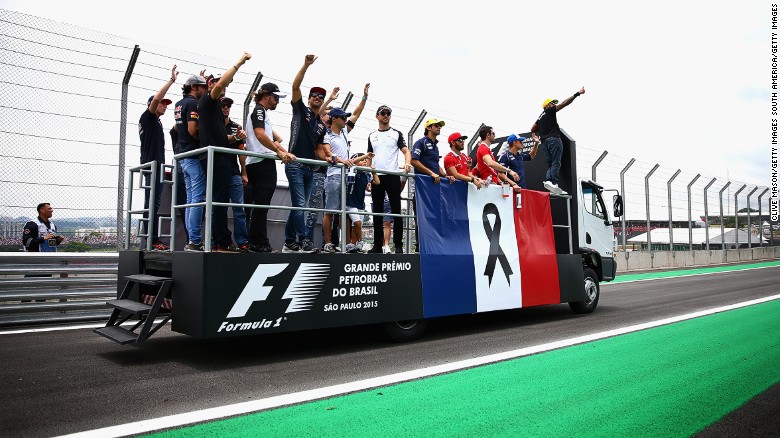 Although the race was conducted in the usual keenly competitive spirit, there was a nod to the victims of Friday's terror attacks in Paris.
Drivers wore black armbands and toured the circuit on the back of a lorry displaying a French flag before the race.
Rosberg also took time out to pay tribute to the victims when on the podium Sunday.
"It was a great weekend for me here, of course everything is relative because of what happened in Paris," he said.
As reported by CNN