Obama calls Paris attack an attack on civilized world, says US will help France track down those responsible; Europe urges Russia to increase its attacks on ISIS.
US President Barack Obama vowed on Sunday to step up efforts to eliminate Islamic State in Syria and prevent it from carrying out attacks like those in Paris, while European leaders urged Russia to focus its military efforts on the radical Islamists.
Speaking at a G20 leaders summit in Turkey, Obama described the killings in Paris claimed by Islamic State as an attack on the civilized world and said the United States would work with France to hunt down those responsible.
The two-day summit brings Obama and fellow world leaders just 500 km (310 miles) from Syria, where a 4-1/2-year conflict has transformed Islamic State into a global security threat and spawned Europe's largest migration flows since World War II.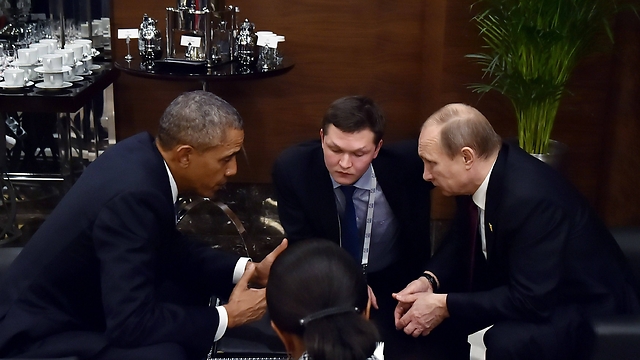 "The skies have been darkened by the horrific attacks that took place in Paris just a day and a half ago," Obama said after meeting Turkish President Tayyip Erdogan.
"We will redouble our efforts, working with other members of the coalition, to bring about a peaceful transition in Syria and to eliminate Daesh as a force that can create so much pain and suffering for people in Paris, in Ankara, and in other parts of the globe," he added, using an alternative name for Islamic State.
Obama and his Western allies now face the question of how the West should respond after Islamic State again demonstrated it posed a threat far beyond its strongholds in Syria and Iraq.
Washington already expects France to retaliate by taking on a larger role in the US-led coalition's bombing campaign against Islamic State.
European Council President Donald Tusk said that Russian bombing of President Bashar Assad's opponents was only increasing the wave of refugees to Europe.
"It should be our common aim to coordinate our actions against Daesh (ISIS) and for sure the cooperation between the United States and Russia is a crucial one," Tusk said.
"But we need not only more cooperation, but also more good will, especially from Russian action on the ground in Syria. It must be focused more on Islamic State and not – because we cannot accept it – against the moderate Syrian opposition," Tusk said.
As reported by Ynetnews